Hurricanes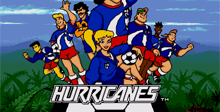 a game by U.S. Gold, Probe Software, and Arc Developments
Soccer fans will enjoy this soccer-themed adventure that's based on the cartoon.
When a madman challenges the Hurricanes to a match, you guide the'Canes through 15 stages to the final clash. Choose between two characters and use your weapon, a soccer ball, and three types of kicks to defeat the Gorgans waiting to ambush you.
Good controls guide the ball. Special power-ups grant extra abilities so you can bash bosses.
Decent graphics compensate for poor sounds. Although the sprites are small, the oversized ball is easy to follow. Colorful stages help you overlook the minimal sound effects.
With many standard soccer titles available, it's refreshing to see a variation. If you like the show or the sport, join this winning team.
ProTip: Wait for the first stage boss to charge, then jump over him and use a chip kick.
Hurricanes Downloads

Hurricanes download
Hurry, hurry, hurry! Step right up for the wildest amusement park pinball game ever! A sequel to Comet and Cyclone, Hurricane blows even more thrills, chills, and surprises than its predecessor.
Open with a skill shot on the long, winding, 360-degree Hurricane ramp, which spans the entire length of the playing field. Three ramps dominate the upper play field. One leads to a Double Ferris Wheel, which automatically passes your ball from one wheel to another before dropping you back onto the field. Two other ramps send your ball through myriad twists and turns, which activate Unlimited Million Point scoring and fires up the Clown Juggler, who loads two to three balls onto the Double Ferris Wheel for Multi-Ball play. Two flippers stand between you and various attractions, such as Clown Time. During Clown Time, you try to light up all six parts of a large clown face for frantic bonus play.
Hurricane sports Williams' standard full-size Dot Matrix display with awesome animated graphics of pie-in-the-face clown antics and fireworks that are intricately linked to on-field action. The lavishly illustrated back glass features a hypnotic, revolving image of the Hurricane roller coaster and its bevy of bizarro passengers.
Lively calliope music, digitized hawking by sideshow barkers, and light shows galore bring the amusement park experience to life. Hurricane will blow you away!