Lode Runner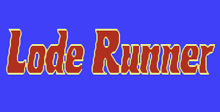 a game by Brøderbund
Platform:

NES
See also: Lode Runner Games
The game is a 1983 platform game, first published by Brøderbund.
The player takes control of a stick figure, collecting all the gold in the level. While doing that you have to avoid robots trying to capture you. There is a multi-story brick platform motif in the levels, with ladders and hand-to-hand bars suspended in the air. They offer multiple ways to travel through each one. There are 150 levels, which are getting more and more difficult. The game is notable for being one of the first ones to feature a level editor that allows players to make their own levels. You are able to dig holes into floors and temporarily trap those robots, and then can safely walk on top of a robot trapped in a hole. The game character can fall from some unlimited height not being injured, but is not able to jump. You finish a level by gathering all the gold there and then traveling to the screen top.
Lode Runner Downloads

Lode Runner download
A classic computer game becomes a scaled-down GameBoy title. Although it's a bit weathered due to its age, this version of Lode Runner stays true to the game on which it's based. Not much new here - you either like it or you don't.