M1 Abrams Battle Tank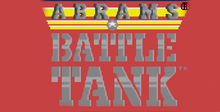 a game by Dynamix, Inc.
Platform:

Genesis
Manufacturer: SPECTRUM HOLOBYTE
Central Europe. The Middle East. Fort Knox.
Welcome to the battlefield. You are now in command of 60 tons of high-tech firepower: The M1 Abrams Main Battle Tank.
Check the battle plans and topographical maps - call for reconnaissance... Tank brings you all the action you can handle. It's the only tank simulation that lets you control an individual tank, or lead a small army of up to 24 vehicles, including tanks, artillery and aircraft.
Experience the action as commander, gunner or driver while crushing through rugged land-scapes at 50 mph. Peer through the darkness with the aid of thermal imaging. Pound at the armor of a Soviet T-80 tank with your sophisticated weaponry.
And for a limited time, you can order a free Tank VHS video tape (small handling fee applies) when you purchase TANK. You'll see actual footage of the M1 Abrams in action. Plus, you'll have the option of a free introductory membership to Compu-Serve, the world's largest personal information system.
So strap on your helmet and be all that you can be - with TANK, from Spectrum HoloByte.
M1 Abrams Battle Tank Downloads

M1 Abrams Battle Tank download
Theme: Sim.
Players: 1
Difficulty: Hard
The most advanced combat tank of the American army is now in your total command! Use your devastating weapons to take out the enemy that is trying to take control of the world!
The best of all the tank games of that era!, A strange breed of fun and at the same time a simulation game, Something that has never happened before this game!, I hope some kind person will post the link so i can have another blast with this classic!...