Mario Paint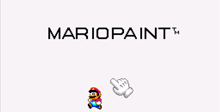 a game by Nintendo
Platform:

SNES
See also: Super Mario Games, Mario games
Mario Paint, Nintendo's latest game for the SNES, provides a compelling form of video gaming that will enthrall and stimulate players just as much as an action/shooter. Instead of lightning reflexes or memorizing patterns, the key to this game is experimentation and creativity.
Reach for a Rodent
Mario Paint consists of the game cartridge, an SNES mouse controller, and a mouse-pad. Not a toy, the SNES mouse stacks up admirably to other computer mouses in terms of weight, handling, and on-screen responsiveness. The mouse-pad, however, is a plastic pad that often doesn't provide enough traction for exact drawing or controlled movements. Not to worry. The mouse works fine on almost any flat, smooth surface.
Similar to Sega's Art Alive!, Mario Paint is primarily a computer drawing program. But the SNES mouse, and a vast assortment of options and features, catapult this accessory into another category altogether. In addition to drawing full-color images on-screen, Mario Paint has Animation, Music Composition, and even an enjoyable, fast-paced video game feature that transforms your cursor into a fly swatter against swarms of flying insects.
Paint by Pixel
Although intended for a younger audience, Mario Paint's drawing features are extensive enough to captivate gamers of any age. The sky's the limit for artists of all ages. Cute icons identify a vast assortment of tools, including various brushes, a 15-color palette, an airbrush, a paint brush, geometric shapes, and a stamp designer/editor. The ability to rotate/flip elements, input text, clone, and Undo commands are also available. A Save/Load feature enables you to store existing images onto the cartridge's memory any time during a Paint session. Unfortunately, there's no battery backup.
ProTips:
When you use the Fill Paint Brush tool, make sure your object's line isn't broken or color will spill out onto other items.
Airbrush your 15 colors together to create new colors.
Transfer any flat image to the screen by placing a dot at the head of your mouse and using it as a guide to "trace" your mouse on top of the image.
Lights, Camera, Action!
The unique Music Composition feature enables budding Mozarts to create their own melodies to accompany their artwork, or use one of the existing tunes. In addition to a full range of notes, you can add a library of sound effects, including animals and well-known Nintendo gaming sound effects like the Game Boy's "Ping" and Yoshi's "Zip." The simple icon-driven system makes writing music a snap.
The Animation Feature enables you to create mini-movies by storing up to nine different images ("cells") that you can bring to life on-screen. Use a Path function to draw an invisible path for the animated object to follow. You control how large the image is and how fast it will move on-screen.
Duplicate an image for the animation cells and then make minor alterations within each cell.
A Perfect Primer
Although accessible to players of any ability, Mario Paint's cheerful demeanor and whimsical icon-driven format indicate that it's primarily geared towards a younger audience. The SNES mouse and its user-friendly options make this the perfect introduction for kids to computers. However, there's definitely enough interaction, complexity, and options to keep older gamers just as interested. A nice change of pace from other SNES fare, Mario Paint's a work of art!
Mario Paint Downloads

Mario Paint download
Manufacturer: Nintendo
Machine: Super NES
Difficulty: Easy
Available: 1992
Theme: Edutainment
The plumber is making pictures!
Welcome, all you soon-to-be artists. You are about to undertake a crash course of Art 101, the Super NES way!
Mario will be on hand to assist you junior Picasso's as you learn to paint, create music and animate your works of art.
The newest star to this family of artists is the Nintendo Mouse. This powerful peripheral allows you to draw anything from simple line art all the way to complex cartoons starring your favorite plumber!
Easy to use menus guide you through every aspect of your creation. Start your drawing in the paint canvas where you can choose a variety of paintbrushes, paint schemes and ready-to-use templates to get you started.
Then head into the music room and create beautiful tunes as only you can. The process is simple because you have the entire Mario crew on hand to help produce your music.
The animation room is probably the coolest feature here. You can make your own cartoons and watch them move around on your own cartoon backdrops.
If you need a break from the action, just click on the coffee break icon and swat some annoying pests with your fly swatter! If you can knock down 100 bugs, prepare to face the meanest insect you will ever see!
Mario Paint is just the tip of the iceberg for programs using the incredible Nintendo Mouse!