Mighty Max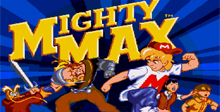 Look out, here comes Mighty Max. He's a young boy with some unusual talents. Mighty Max is a fun spirited action game where you jump and shoot your way through a number of colorful levels. Mighty Max is another cool action cart for the Super NES.
Mighty Max Downloads

Mighty Max download
This game was made by McDonalds, To get younger kids into the Elvis diet!, The aim of the game is to collect ingredients for a burger!, I think i should stop there before i get sued!, But they where not the only fast food company to advertise with games, Cool Spot for 7 up, Mr Wimpy for Wimpy burger, Chester the cheetah for Cheetah corn snack things? etc.