NHLPA NHL '93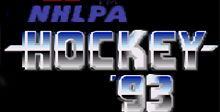 a game by Electronic Arts
Platform:

Genesis
See also: Hockey Games, NHL Games, NHL Games
Manufacturer: Electronic Arts
Machine: Genesis
Difficulty: Moderate
Available: September 1992
Theme: Sports
It is not nice on the ice
This is what every true hockey fan sees in his dreams. The folks down at Electronic Arts show once again why they are the leaders in sports games. This hockey game has everything. It has plenty of speedy skating and brutal fighting for everyone to enjoy. NHLPA is also equipped with the highest technology available. The crowd meter showing fan reaction and the instant replay showing all the spills and chills add to the intense realism!
Talk about stats! This game will have even the most avid bean counters going crazy. You get game heroes (actual names of real players), game stats and season stats. This is the hockey we all know and love, so suit up, sharpen those skates and hit the ice for an unbeatable good time with NHLPA Hockey and the EASN sports crew!
Other games by
Electronic Arts
NHLPA NHL '93 Downloads

NHLPA NHL '93 download
Genesis - Electronic Arts
Theme: Sports
Available: 1992
Hit the ice with NHLPA '93 from Electronic Arts. Many options make this one hot! One or two players can skate for bragging rights, or you can take part in the championships. All the top teams are prepared to give you a run for your money! The view is from an overhead perspective allowing an unparalleled view of the action! Score a goal and hear the crowd go wild! With NHLPA '93, who needs to sharpen skates?
People say:
8
This game does a much better job of blending the accuracies of the sport with a play mechanic that is easy to pick up and have fun with. It's a boosted-up version of their previous hockey effort, but new perspectives and more options make it a worthy investment that is addictive in its two-player mode.
9
EA knows sports! Although their previous game set new standards in excellence, this version rewrites what the best should be. Better sounds, faster and more controllable game play now correct what was lacking in the first game. The two player action is the best I have ever seen! Where does EA go from here?
8
EA does it again with the sequel to NHL! This game is more refined than NHL and offers more control and smoother game play. The graphics are touched up and the sounds are awesome. The crowd cheers you on or boos when cheap plays occur. Great 2-player action and a smarter computer opponent. Bring it on.
8
It would appear that EA has managed to improve their smash hit of the ice rink! The sounds are unbelievable (the echo of the puck hitting a wall is perfect), the instant replay also captures funny moments like a photographer taking a picture of a hockey player being beaned with the puck. Classic! Worthy!