Populous 2 - Wrath of the Gods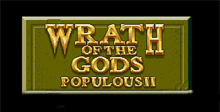 a game by Bullfrog Productions
Platform:

Genesis
See also: Populous Games
Populous is a game developed in 1989 by Bullfrog. Populous is regarded by many as being the seminal god game. Populous was awarded with "Origins Award for Best Military or Strategy Computer Game of 1990" as well as "1990 Computer Game of the Year". It was the first game in the Populous series and preceded Populous 2, Populous: The Beginning and Populous 2 - Wrath of the Gods.
The best game based on Greek mythology ever made, Populous 2: Wrath of the Gods puts you in the sandals of an orphan who discovers that he's actually Zeus' son and must done heroic deeds to earn his place on Olympus. You, as a player must solve fun puzzles, easy for those familiar with Greek myths.
Other games by
Bullfrog Productions
Populous 2 - Wrath of the Gods Downloads

Populous 2 - Wrath of the Gods download