Putty Squad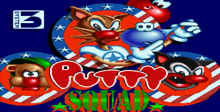 a game by System 3
Platform:

SNES
Manufacturer: System 3 Arcade Software LTD. UK
Machine: Super Nintendo
Theme: Action
The sequel to Super Putty, Putty Squad once again puts you in the role of a roving chunk of what else ... putty! You can traverse a huge world of obstacles using your blob-like abilities. Like the original, this one has a sense of humor.
This is one of those games that no one really takes notice of. It is a fun game with a lot of neat ideas. Maybe it will come out over here.
Putty Squad Downloads

Putty Squad download
This game had such a hook factor you would not believe!, I must have played this game about 300 times start to finish!, Beautiful cartoon style graphics and quirky music and the strange but extreme fun game play made this one of my all time favorites!, Sadly no link!, If only somebody could be so kind to post the link.