R.C. Grand Prix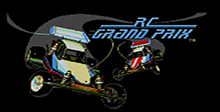 a game by Absolute
Platforms:

Sega Master SystemGameGear
See also: Rc Games
Manufacturer: Sega
Machine: Game Gear
Difficulty: Hard
Available: October 1992
Number of levels: 10
Theme: Racing
Feel Your Pulse Race...
You long for the title of Championship Racer. You know you have the skill to become one of the elite R.C. Racers. It takes practice and lightning-quick reflexes to win!
Compete against three of your friends, or pace yourself against the computer! After each race, buy high-performance parts for your car to ensure certain victory. Hairpin turns prove to be dangerous, and can put you in last place. Your competition is out to win at all costs, so keep your eyes open for cars trying to give you an early exit from these exciting races!
R.C. Grand Prix Downloads

R.C. Grand Prix download
R.C. Grand Prix delivers the thrill of a radio-controlled car race for up to four players! One player races against three computer controlled opponents.
Each of the 10 courses gets harder and trickier as the racers zoom through track cross-overs, hairpin curves and other high-speed challenges.
Players compete for trophies and prize money to purchase hop-up parts for their cars. It offers plenty of portable excitement from Absolute!