RoboCop 2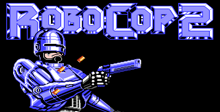 a game by Data East
Platform:

NES
See also: RoboCop Games
You get the pleasure of stepping into the iron-toed shoes of the metallic-man himself, RoboCop. Man him through more than eight, multi-sectioned levels of gun-slinging action. Your mission -- to destroy deadly Nuke (a radioactive material) and a variety of vicious villains. You've got a limited amount of time to power your way through the streets of space-aged Detroit, and if you don't arrest a certain number of suspects and destroy enough Nuke before the clock runs out, you may end up back at the starting gate. Dust off that jar of metal polish, 'cause RoboCop is back.
RoboCop 2 Downloads

RoboCop 2 download
Manufacturer: Data east
Version: Amiga
Destroy Cain. That sounds like an easy enough task for the armored cyborg called RoboCop. It isn't. To win this frenetic side-view scrolling shooter, the player must blast through three missions, each of which is a multielevation, multiscreen complex.
Only when RoboCop has withstood the withering barrages from a mob of malevolent minions can he come face to face with Cain, the dreaded evil robocop.
RoboCop has three lives at the start of the game, but he gains an additional one if he saves all the hostages calling for help in a mission. Since armed captors guard these unfortunates, it usually means a fire fight before the hero can save a prisoner.
Bonus objects (sometimes hidden inside things that must be destroyed before the treasures become visible) either improve the character's weapon or alter game parameters. The heavy weapons are three-way fire, scatter shooting and rapid fire. Game-play bonuses include extra time, more energy and improved resistance to enemy fire.
The graphics are colorful, clean and reasonably detailed. Numerous short, special animations breathe extra life into both the player-character and the roving enemies.
The music is all right, but nothing special. The theme on the Amiga edition lacks the fullness associated with games for that system. Sound effects are good, especially if you like constant explosions, but again, not extraordinary.
In short, RoboCop 2 is a well-implemented example of a genre that has been a video-gaming staple for the last several years. There is almost nothing new about it, even allowing for the fact that it is loosely based on the movie of the same name.
Video gamers (RoboCop 2 is also available for play on Nintendo) might judge it as competent, but uninspired. It deserves more attention from computerists. The reason: neither the Amiga nor the IBM PC software libraries have nearly enough all-out action contests. So ignore the plot, don't worry about originality and keep your trigger finger pumping for a heart-pounding arcade experience on the home computer.
Robocop must protect Old Detroit once more, and destroy the rouge Robocop II.