Rockman Megaworld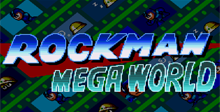 a game by Capcom
Platform:

Genesis
See also: Rockman Games
One of the best kept secrets is that Capcom of Japan is working on a sports title featuring Rockman (you probably know him better as Megaman). This funky soccer game has Megaman and the other robots going against each other on the field.
Pass, dribble, or trap the ball just like in any other soccer game. Try to get as many goals as you can, and become the best team.
Rockman Megaworld Downloads

Rockman Megaworld download