Slaughter Sport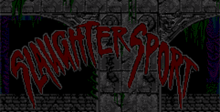 a game by Razorsoft
Platform:

Genesis
Get ready to do battle with some of the fiercest and ugliest monsters you'll ever see! Great action!
Slaughter Sport Downloads

Slaughter Sport download
Theme: Sport
Players: 1-2
Difficulty: Average
Here is the future of space gladiator combat! Choose your character wisely so that you can be able to beat all the other creatures that plague the arena! Build up your account for more weapons!
Razorsoft's Slaughter Sport is the new name of Mondu's Fight Palace. In the Arena of Death, you battle Mondu and his 15 top contenders with fists, claws, and Magic moves.