Super Black Bass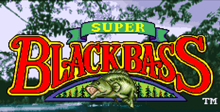 a game by Starfish Inc.
Platform:

SNES
See also: Super Black Bass Games
Hot-B has finally updated its classic NES Black Bass game for the SNES, and the new version is a good catch. While the game's format remains faithful to the 8-bit edition, Super Black Bass is packed with hotter graphics and more realistic sounds. Just as in real-life fishing, the slow-moving game play may bore all but hardcore fishermen. However, good things are worth waiting for, and electricity will charge the air when you hook up with a lunker Black Bass!
A-Fishing We Will Go
Super Black Bass features four increasingly difficult freshwater tournament stages, ranging from Local Amateur Tournaments to the Super Bass Championship. As your fishing skills increase, the game ups your challenge and makes the pickings slimmer. The tournaments start at a yawning 7:00 a.m. and close at 4:30 p.m. To win, you need to catch the highest cumulative weight of Bass.
ProTips:
If you miss the deadline by 20 minutes or more, forget it! Keep the Bass and have a fish fry, because you won't be allowed to weigh-in your catch.
Try fishing the dam on Skywater Lake first thing in the morning with a Crankbait Lure.
Super Black Bass is a tough one to reel in, but it's worth the effort. Right off the top, you'll need to learn the habitats of the bass and their feeding habits. The most challenging part of this game is learning to properly select and use the many types of lures.
The action involves scouring the lake for fish with an electronic Fish Finder, then fighting them in a gut-wrenching Action Mode. Although the controls can be a bit tricky when trying to land a fish, it gets easier with time.
Listen for the pong sound when using the Fish Finder.
Getting Hooked
Super Black Bass is a bit slow, but it hooks you anyway. It's a fairly realistic simulation, meaning there's a lot of dead time spent at the lake waiting for a bite. Fortunately, you get into the mother of all fish fights just when you're sure you're going to only bring home a bucket of water.
Learn what each species of fish looks like underwater so you can steer clear of even thing except the Bass.
Nothing Fishy Here
For the most part, the graphics are well above average. Super Black Bass offers excellent, true-to-life graphic representations of the different fish species, both in and out of the water. However, the lures could be sharper and more detailed.
SBB's sound effects are great, and during slow times you might even be put to sleep by the sounds of water on the lake. But you'll awake with a start when you hear near-gale force winds blowing through your hair! While there is a bit of jammin' Blue Grass music at the title screen, it's absent during game play. This is probably good, because tunes might intrude on the realistic fishy sense you get from the game.
When your Bass goes airborne, be sure to watch your line- strength gauge. Stop reeling and lower your rod if it starts getting too tight, or it'll snap.
Gone Fishing
Super Black Bass is an engaging game that even experienced fishermen will appreciate. The slow game play may bog down some gamers, but everyone should try out the game's true-to-life challenge before throwing it back. Good luck and tight lines!
Other games by
Starfish Inc.
Super Black Bass Downloads

Super Black Bass download
Enjoy the thrill of catching black bass all year 'round! Hot-B introduced The Black Bass for the NES and it became an instant hit! Now, Super Black Bass will challenge the veterans who have mastered the first. The obvious changes are the sharp graphics and real sound effects! Grab your lure and pole and get set to get wet!
Hot-B has got you hook, line and sinker with their new hit Super Black Bass for the Super NES. Seek out the elusive Black Bass with the most poundage to win. This total fishing cart features informational tips about weather, stats, techniques and tournament standings. Pick your spot on the water and cast away! Be careful, for your lure could get stuck in the weeds and there are only a few lures at your disposal. Reel 'em in!
People say:
7
Despite a rather repellent title, Super Black Bass is a rather engrossing game. Some skill is required in terms of knowing which lure to select, how far to cast. etc., with the cast presented in flawless Mode 7 scaling. The sounds, including the crashing of the waves, is atmospheric as well. Fishing fans should pick it up.
7
As a fan of the original Black Bass, I had high hopes for this sequel and I don't feel let down. The graphics are very nicely done and the use of Mode 7 reels you in. The music is a nice touch and the sound effects make it seem like you're there. The realism is represented well but it takes practice to catch a good-sized fish.
6
There are not too many games in this category to compete with, but Super Black Bass does a good job of bringing the sport of fishing to the video game scene. The graphics are nicely drawn and there's lots of Mode 7 effects when you cast. The sounds are digitized and help add to the realism. A relaxing cart for fishing buffs.
7
Just when you thought it was safe to put away your tackle box, Super Black Bass is here! Fishing is a great sport for all those patient folks out there, and Super Black Bass is no exception. You will need to use your brains and brawn to pull in the prize catch of the day this time! This could be the last of its kind.