Tom and Jerry - Frantic Antics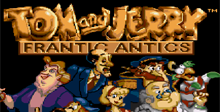 a game by Beam Software
Platform:

Genesis
See also: Tom & Jerry Games
Watching Tom and Jerry's perpetual antics has delighted cartoon fans for ages. Now they're here on the Genesis, but unfortunately they're not as much fun as their show.
ProTip: Don't think that you can just slink by the Grannies in the latter part of the first stage. They throw their false teeth at you!
Up to Their Old Tricks
In Tom and Jerry, you play as Tom in a one-player game or as Tom or Jerry in a two-player game. It's a basic run-n-jump game, where you must avoid certain obstacles to progress to another stage. You have a variety of objects to throw, such as Footballs and Light Bulbs, and blocking your way are falling pots, breakaway floors, the occasional Wrecking Ball, and more.
Sound familiar? It is. In Tom and Jerry -- Frantic Antics, all the standard cartoon humor is there, but the fun is gone. There are too few hidden areas and even fewer surprises (although the Wrecking Ball might make you twitch). You take out enemies by throwing objects or by running and spinning, literally bowling them over. It gets boring after a while.
Straight from the Tube
The graphics in the game don't suffer as much as the game play. The backgrounds and characters look exactly like the cartoon, and all movements are smooth and clean. The music is a snoozer, although it tries to stay chipper and upbeat. However, all the sound effects are as clear as you would want. As for the controls, you have to land your character on some pretty tricky spots. Getting it right will keep your tail standing straight up.
You can hop on anything solid in this game: garbage cans, park swings, and even telephone poles. Remember: You need projectiles (Footballs, Light Bulbs, and so on) for hard-to-beat enemies.
Antic-climatic
T & J won't exactly bore you to death, but it will make you drowsy. The repetitive game play, bland enemies, and frustrating controls add up to one word: rental.
Other games by
Beam Software
Tom and Jerry - Frantic Antics Downloads

Tom and Jerry - Frantic Antics download