World Series Baseball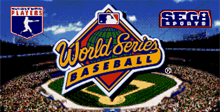 a game by Blue Sky Productions
Platform:

Genesis
See also:Baseball Games, World Series Baseball Games
World Series Baseball is without a doubt one of the best Sega Sports titles to date, and it's arguably the best baseball game ever. Those are some big words, but this is a heavy- hitting game. Sure, baseball is baseball, but playing this game is like playing in the Majors, while most other baseball games are like playing Pee Wee League. Which would you wanna play?
This game is full of hot graphics, big-league sounds, hard-hitting action, all your favorite teams and players, and enough stats to excite even the most jaded fanatic.
Batter Up!
In some ways, World Series Baseball is like any other baseball game: You hit the ball, you catch it, and you throw it. In addition, you can steal bases, bunt, pitch out, align your defense, adjust your lineup, and so on. Like other baseball games, World Series gives you exhibition games, a home run derby, batting practice, and league play with variable season lengths up to 162 games.
Unlike many other games, however, World Series Baseball has actual teams, players, and stadiums, with stats from '93 and performances based on those numbers. This game is loaded with enough authentic features to make any baseball fan delirious.
Hitting, catching, and throwing the ball are easy in this game. As the pitcher, you have a choice of three pitches (Splitter, Curveball, and Fastball) that you can throw at three velocities. You can also select precise targets in or out of the strike zone. The batter, meanwhile, has a normal swing, a just-make- contact swing, and a go-for-the- fences swing. If you like bashing those monster home runs, a tape measurement shows just how far that ball went. You can even get a replay of those awesome smacks.
ProTip: While batting, you have a choice of three swings. If you have a home run hitter, swing for power. If you have an average batter, swing normally or just make contact. Use a contact swing when you're trying to execute a hit-and-run play or when you're trying to knock in a run from third base.
It's Outta Here
World Series Baseball has some of the most awesome digitized and non-digitized graphics out there. The true-to-life ballparks are so impressive in their detail and accuracy that you can actually tell you're in Fenway (with that Green Monster) each time you go to Boston. Best of all, the large pitcher and batter sprites move fluidly and are well-detailed.
If you need to move a runner, sacrifice bunts work well. Just remember, if you bunt the ball foul with two strikes against you, you're out!
Throwing a Splitter for a strike can be difficult. If you pitch the ball high and out of the strike zone, it may drop in for a strike.
The game gives you a dramatic catcher's-eye view as the pitch is thrown. The view completely immerses you in the action. You can even feel that menacing stare from Dave Stewart of the Toronto Blue Jays! Once you connect with the ball, you switch to a standard aerial view of the field. Although the infield and outfield players' sprites are small, they're more than adequate and have very fluid movement, even when making awe-inspiring plays.
If your opponent looks like he's gonna steal a base, throw over to the base he's on when his lead gets too big. An occasional pitchout also might help you catch a base burglar.
Be sure you move the ball around the plate while pitching. If you pitch constantly to one part of the plate, the CPU will catch on, especially in later innings.
Likewise, the sounds in World Series Baseball are virtually above reproach. Digitized commentary adds excitement to this game, as do the umpires calling strikes and outs. The play-by-play is fairly accurate, but it lags at times.
Strategy is an important part of this game. Adjust your defense to each opposing batter, especially when you're playing at more difficult levels. For example, when the opposing team has a runner on first with no one out, set your infield for the double play.
The music is limited to non- game-playing sections of the game. It's upbeat and perfectly suited for baseball (no techno rhythm beats here). Even though sounds and graphics can't make a bad game great, they certainly add an extra level of realism to this already wonderful game.
Home Run Champion
If you're looking for a hot baseball game that's fairly easy to play, World Series Baseball is your best bet. It delivers impressive graphics, outstanding sounds, real names, and tons of options. Get plenty of batting practice, and then start swingin' for them fences.
Other games by
Blue Sky Productions
World Series Baseball Downloads

World Series Baseball download
Machine: Game Gear
Manufacturer: Sega of America/by Sega of Japan
Celebrate the return of the Boys of Summer by stepping up to the plate in World Series Baseball. Although this Game Gear version is entirely different from the Genesis game of the same name, it still provides a lot of hand-held fun.
All the real players and logos are included in World Series Baseball, which - unlike the sport itself - is incredibly fast. The hits, throws, and runners all move very rapidly and bring an excitement to game play that's often missing from baseball sims. But quick reactions are a must if you hope to grab the pennant for your team.
Although the controls respond better than average, they're still the game's weakest point. Computer fielders automatically catch fly balls, but chasing down liners in the outfield takes some work. It can also be a challenge to throw to the correct base, and the buttons often don't respond quickly enough to allow you to turn a double play.
Game modes include exhibition games, 32-, 84-, 123-, 162-game pennant races (seasons), and two-player competitive games (by linking two Game Gears). You can also create two "dream teams" by picking players from the rosters of all 28 MLB teams. You can substitute batters and pitchers at will during the action, basing your decisions on a thorough list of stats. And don't worry about entering lengthy passwords - your progress is automatically saved.
World Series Baseball won't please the realist in you, but you'd be hard-pressed to find a portable arcade-style sports game that's more fun. So if you're looking for a nine-inning fix to go, pick it up!
Manufacturer: Sega
Machine: Genesis
World Series Baseball is one of the better baseball games out there with great control, excellent voices, and plenty of teams to choose from! With two players, it is even better! The scoreboard has excellent cinemas.