Archer Maclean's Dropzone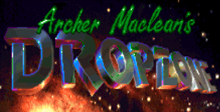 a game by Arena
Platforms:

SNESGameGear
See also: Archer Maclean's Games
With its many levels, Archer Maclean's Super Dropzone is an action packed; single player video game that anyone in the galaxy can play. This Super Nintendo Entertainment System game provides all of the features of the original Dropzone, with much more updated and richly enhanced features. Have a blast as you take on wave after wave of enemies and eccentric level bosses. Test your skills as you participate in a battle of the planets. Released in 1994, this fun-filled game was published by Psygnosis and developed by Eurocom.
Archer Maclean's Dropzone Downloads

Archer Maclean's Dropzone download
Get ready to have a blast with this updated and side-scrolling shooter game, Archer MacLean's Dropzone. The 2004 release by developer Pocket Studios and publisher Ignition Entertainment is set against a spaced-themed backdrop. There are over fifty levels of 2D graphics and interactive fun with features such as power-ups, special weapons, bonus rounds, as well as, those insidious "boss" enemies. With jetpacks, you can maneuver quickly and effortlessly while taking out waves of nastiness. You can zip across planet-scapes of Jupiter's four main moons while protecting a human colony from the invasion of aliens. With plenty of blasting adventures on this journey, this game is sure to entertain everyone with just a touch of mild animated violence.