Harlem Globetrotters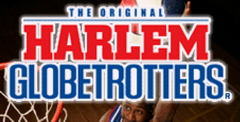 a game by Gametek, and Full Fat Productions
Platforms:

NESGBA
See also: Basketball Games
The hilarious Globetrotters are coming to the NES in one of the best basketball games yet! All the standard b-ball rules are here but once you gain control of the ball try out some of the trick shots like the behind the back shot or the somersault slam dunk! As you get better, baffle your opponents (a 4 player game with the 4 Score) with some fancy shoulder roll passes or even the the wild finger spin pass!
Released in 1991, this sports video game was published and developed by Gametek. Harlem Globetrotters is a Nintendo Entertainment System sports game about an exhibition basketball team that combined athleticism and comedy, which did some tricks to make an impression on basketball fans and create one of the most popular in the world sports entertainment franchises.
There is only an exhibition mode in this game, and this makes it different from most basketball video games. The play can choose to play on the part of the Harlem Globetrotters or their opponents. What else the player can do is to trick. For example, when playing as the Harlem Globetrotters, why not trip the ref when a free throw (unopposed attempt to score points from a restricted area on the court) has been called or even try to pull down the referee's pants or even.