NHL Hockey 91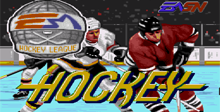 Platform:

Genesis
See also: Hockey Games, NHL Games, NHL Games
The thermometer's checking in at 85+ degrees and air conditioning is suddenly more important than food, sleep...even video games! But Fanatic Fan has the cure for those dog days o' summer blues... some chillin' ice hockey action for the Genesis, the TurboGrafx-16, and the Game Boy.
If Fanatic Fan had a personal award for awesome sports games, it would go to the folks at Electronic Arts. EA has singlehandedly given die-hard sports gamers a reason to rush out to buy a Genesis. The latest candidate for the Video Game Sports Hall of Fame is NHL Hockey, a great balance of fast action, realistic simulation, and hot graphics all wrapped up in a game. NHL Hockey is programmed by Park Place Software, the same guys who created John Madden Football, so ya got to figure it would be smokin'.
Like most EA games, the graphics and sound effects are top-notch. Your team of players appears onscreen in a three-quarters overhead perspective. Like real skaters, they take long strides as they try to move faster, and they use their sticks the way you'd expect hockey players to. They even grunt when they hit or get hit.
The game has regular season play and a full playoff format (including a best of seven option). You can play any of these options alone, against a friend, or as a two-player team.
High Stickin'
NHL Hockey is the first game to license the National Hockey League -- that means you get to control ALL the pro teams even the newly-formed San Jose Sharks! If you're a beginner, take over the Campbell or the Wales All Stars and give yourself an advantage. Although the players in NHL Hockey don't have names on their jerseys, you can figure out who's who by their player number. And as in John Madden Football, the players are all rated in several skill categories (based on their real-life abilities).
Icing, Icing Baby
The game's programmers try to give you a feel for the sport without bogging you down with complex rules and difficult game play. Most of the regular hockey penalties are called -- unless you choose a no - penalties game. The zebra's whistle, charging, cross-checking, tripping, hooking, roughing, interference, even icing and off-sides. There's also a Penalties, Except Off-sides mode in which they call all the major infractions, but skip the annoying off-sides calls. This is the way to play -- after all, hockey without penalties is, well, CHAOS.
Let's See That Again!
A great feature of NHL Hockey is it's lnstant Replay option. Just scored an incredible, game-winning goal? You can literally "rewind" the action and watch the play as it happened again and again. By hitting the В button repeatedly, you can even watch one frame at a time.
ProTip: Don't take unnecessary risks when you have the lead. Play а "four corners" game - keeping the puck away torn your opponent as the clock winds down.
Alright for Fightin'
Has there ever been a hockey video game without some sort of "fight mode?" For that matter, has there ever been a real life hockey game without any fights?
NHL Hockey has a fight mode that's totally excellent! Check a guy one too many times, and he may just drop his gloves and try to teach you a lesson. Whether you win or lose, you'll get a five minute major (penalty) for the battle.
You have a better chance of winning any fight by breaking your opponent's grip on you and backing off. When your opponent takes a swing at you (and misses) slide forward and pop him in the gut or the face, then back off before he can swing again.
Overtime
EA hasn't missed a hat trick in designing what should be their next great sports hit. This game's got it all: cool graphics, fast action, fist fights, highlights from other games in progress, and instant replays. They even have "home team advantage" -- your crowd will get behind every move you make, even the cheap shots. With NHL Hockey, video hockey has finally emerged from the Ice Age!
NHL Hockey 91 Downloads

NHL Hockey 91 download
EA expands their sports series with NHL Hockey. Once again it plays just like the real thing.
Straight from the team who brought you John Madden Football comes NHL Hockey for the Genesis! This sports action cartridge contains high contact hockey: fighting, grabs, checks, tripping, hooking, and slashing! Like Madden Football, read the scouting reports on your opponent. Choose from 24 NHL teams. Listen to the crowd cheer, clap, and shout! Based on the 1990-1991 performance stats.