Populous 2 - Two Tribes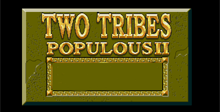 a game by Bullfrog Productions
Platform:

Genesis
See also: Populous Games
Populous is a game developed in 1989 by Bullfrog. Populous is regarded by many as being the seminal god game. Populous was awarded with "Origins Award for Best Military or Strategy Computer Game of 1990" as well as "1990 Computer Game of the Year". It was the first game in the Populous series and preceded Populous 2 and Populous: The Beginning.
Populous 2 - Two Tribes also know as Populous 2 - Trials of the Olympian Gods.
Populous 2 continues the "god game" genre pioneered by Bullfrog's classic Populous.
In Populous 2 - Two Tribes, you're an unproven immortal who must fight your way through an entire pantheon of Greek gods, each with his or her own strategy and attacks, and ultimately enter into a showdown with Zeus himself.
The gameplay mechanics are similar to Populous, but Populous 2 - Two Tribes features a wider array of spells, digitized sound, and high-resolution graphics to give the spell effects extra punch.
Other games by
Bullfrog Productions
Populous 2 - Two Tribes Downloads

Populous 2 - Two Tribes download