Scratch Golf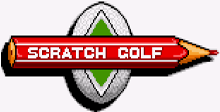 a game by Sims Co., Ltd.
Platform: GameGear
Duffers looking for a simple golf game should hack around with Scratch Golf. Beginners will learn the techniques and strategies that'll prepare them for much harder fairways.
Fore!
Scratch Golf has lots of options. You choose everything from the type of shaft for your clubs to the wind speed. The two 18-hole courses, seen from an overhead view, have plenty of variety, hazards, and graphic detail.
The game is missing a few things, though. There are no "name" pro players or courses, which most other golf games have. Nor is there a behind-the-golfer view to show you your swing. The aerial view is good for surveying the whole course, but it doesn't truly involve you in the game as you watch your tiny ball float to the green. The average sounds feature bouncy tunes and some muffled effects as the ball hits obstacles.
Puttin' Around
Two highlights of Scratch Golf are the practice modes. Exercise and the super-easy Super Exercise. In either you can play holes in any order and get help with your shots. These modes help make Scratch Golf a duffer's delight, but nothing that a pro will spend much time with.
ProTips:
Don't just blast away for maximum distance. Sometimes it pays to lay up just before a hazard.
Winners drive for show and putt for dough - practice putting in the Exercise mode before you tackle these tough greens.
Hit a little under the ball with your Pitching Wedge to get maximum loft.
Other games by
Sims Co., Ltd.
This two-meg golfing game has a surprising number of options for a hand-held. One or two players can attempt three game play modes, try two 18-hole courses, choose Metal, Carbon, or Wooden clubs, and jump to any of the holes up ahead. Adjust your stance, select your club, and swing to match the lie of the overhead-view, side-scrolling course and the wind conditions, then watch your ball fly over hazards to the green.