Sonic 2 Rebirth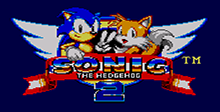 a game by Sega
Platform:

Sega Master System
See also: Sonic Games
Manufacturer: Sega
Machine: Game Gear
Difficulty: Moderate
Available: December 1992
Theme: Action
Sonic Returns to Portable Gaming!
The video world's favorite character, Sonic the Hedgehog, is back for his second adventure on the Game Gear. This all-new episode features more speed, more dangers, more zones and more of the fast action gameplay that made the first Sonic so good. Sonic must outrun and outsmart a whole new cast of Dr. Robotnik's crazy creatures. Robotnik's new team of contraptions known as the Roboswat team (along with the mad doc himself), are trying to take over the world. His new creation, the "Death Egg," is the size of a small moon and can wipe out an entire planet (this sounds familiar, doesn't it?). You are the only hope of saving the world. Fortunately, you have learned a few new tricks and you can hang glide through the air in order to reach Dr. Robotnik. Look forward to highspeed runs through underground tunnels on a railcart and other surprises. All this and more in the first 4 Meg cartridge ever released for the Game Gear!
Sonic 2 Rebirth Downloads

Sonic 2 Rebirth download