Super Monaco GP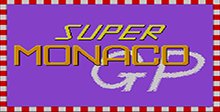 a game by Sega
Platform:

Sega Master System
See also:Super Monaco Games
Burn through the tight turns of a European racing circuit in your open-wheel Grand Prix can shifting through 7 gears as you take your tach to redline and watch the buildings of the cityscape rush at you at 200 mph.
Super Monaco GP Downloads

Super Monaco GP download
Hear the roar of your powerful engine as you test your skill in the driver's seat. The high point of this arcade game is the PowerLink networking feature that lets players simultaneously compete head-to-head with others.
The ultimate Sega racing game is delivered straight from the arcades and into your living room with hardly any loss along the way. Blaze past highly-detailed obstacles and backgrounds, watch your rear-view mirror, and punch the pedal to the floor!