Super Monaco GP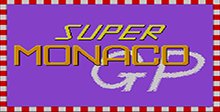 a game by Sega
Platforms:

Sega Master SystemGameGear
See also: Super Monaco Games
START YOUR ENGINES..!
Sega has just converted it's popular coin-op auto racing game to the Master System. In this you get to prepare your car by building it to optimize it's performance. Race either against the machine or against a friend on many of the top GP courses in the world. The split screen perspective tracks both cars independently which all adds to the excitement!
Super Monaco GP Downloads

Super Monaco GP download
Sega has taken their popular arcade racing game and converted it downward to the Master System. Almost all of the action is here as you have a wide variety of tracks to race on, four different transmissions to choose from, and a split screen to allow for two player head-to-head competition or you against the computer. An overview of the track shows your relative position and what turns are coming up.
People say:
4
Super Monaco GP, while constructed as a decent playing game, just doesn't explode off of the screen like similar 8-Bit efforts such as Out Run did in four meg. With some tuning this could have been a hit, what we get is a mediocre game that never gets out of first gear.
6
I like the two-player option in this game, giving you direct head-to-head competition. While the graphics aren't as impressive as similar games, the addition of pit stops and wide selection of track help it along. Not the best conversion, but better than average for the SMS.
5
Super Monaco tries to touch on a lot of different themes, with head-to-head racing, pit stops, track selections and more, but instead comes up a little rough around all of its multiple edges There is a lot to like, but it doesn't touch Out Run.
4
This is a poor excuse of a driving game. If the SMS is supposed to be superior to the NES. then this game certainly doesn't show it. The game is too straightforward and comes off looking like a poor NES title. Keep the car in the garage!
Burn through the tight turns of a European racing circuit in your open-wheel Grand Prix can shifting through 7 gears as you take your tach to redline and watch the buildings of the cityscape rush at you at 200 mph.
Hear the roar of your powerful engine as you test your skill in the driver's seat. The high point of this arcade game is the PowerLink networking feature that lets players simultaneously compete head-to-head with others.
The ultimate Sega racing game is delivered straight from the arcades and into your living room with hardly any loss along the way. Blaze past highly-detailed obstacles and backgrounds, watch your rear-view mirror, and punch the pedal to the floor!