Super Sprint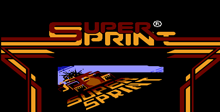 a game by Tengen
Platform:

NES
See also: Racing Games
Theme: Driver
Number of Tracks: 7
Difficulty: Average
Number of Players: 1 or 2
Available: July, 1989
RACE FOR YOUR LIFE!!!
Straight from the arcade and into your home comes Super Sprint! In the Tengen home version of this coin-op classic, you go up against super-powered drone cars as well as other players (with an optional two-player combo mode) in a race to reach the checkered flag! Seven different tracks, which get progressively more difficult as obstacles are added, must be lapped four times. As long as you stay in the lead you proceed to the next race. Along the way you can retrieve power-up wrenches which can be cashed in for enhanced tractions, speed, acceleration and points. It's all-out fun from beginning to end, and is guaranteed not to disappoint fans of the arcade masterpiece.
THE SUPER SPRINT RACE TRACKS
Different strategies must be employed to beat the competition in each race. Always take advantage of the short cuts that east in some of the rounds (4 and 5) and be sure to avoid the obstacles that appear in later rounds of play!
POWER-UP
During each race, two gold wrenches will appear at various locations around the track. By collecting these items, you can increase the performance of your vehicle by enhancing your traction (for tighter turns), acceleration, speed, and points!
Complete all seven tracks and race again!
Similar Games
Viewing games 1 to 4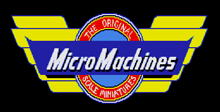 Micro Machines
Based from the top-down view, this version places various types of miniature vehicles into various small locations, generally around the domestic home and work place.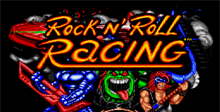 Rock n' Roll Racing
Use laser cannons, cluster bombs and super boosters to annihilate your competition as you race to different plantes. Choose from 5 different hot racing machines. 6 different planet race tracks. Fully digitised sound tracks. Radical weapons on all cars.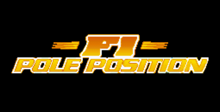 F1 Pole Position
It is a Formula 1 racing game considered to be the first game in the Human Grand Prix series for the Super Famicom.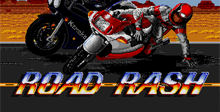 Road Rash
No Speed Limit? No Rules? No Problem! Blow 14 opponents off the backroads of California in the most illegal, unofficial and dangerous race there is. Kick and punch your opponents outta the way at 150 mph. Snatch a club - if you wanna do some real damage. Avoid cows, road blocks, oil spills and oncoming traffic! Finish the race to take home cash or look for a police escort to your favorite jail. The roads get tougher and your opponents get meaner with each new level - so get used to the abuse. Eight bikes are up for grabs - if you have the cash!
Super Sprint Downloads

Super Sprint download
The multi-player arcade sensation comes home courtesy of Tengen! Challenge your friends to the head to head action of Super Sprint as you take a formula one racer around hairpin curves and over jumps in eight different tracks! Special power-ups let you customize your car for even more thrills! Don't forget to get that wrench!
It's Grand Prix action based on the coin op hit of the same name. Tear around one of seven different tracks at speeds that'll curl your hair. You and a friend can race the computer in four-lap heats, dodging deadly obstacles like oil spills, twisters, and traffic cones. You get an overhead view of each course. The tracks are packed with twists and turns, including jump ramps, opening and closing gates, over/underpasses, and deadly hairpin turns. Customize your car with super traction, blazing top speeds, and turbo acceleration. Hey, are you ready to burn some rubber?
One or two players can race in Super Sprint, experiencing the thrill, speed and excitement of racing in the Grand Prix. The game features four lap tracks, jump ramps, opening and closing gates, over/underpasses and hairpin turns. Super Sprint allows you to customize your car with such features as super traction, higher top speed and turbo acceleration. Super Sprint, it's definitely not for Sunday drivers.