The Lone Ranger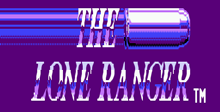 a game by Konami
Platform:

NES
Oh, oh. The president is missing and rumors have it that the evil Cavendish gang are behind the kidnapping. The efforts of the Secret Service have unveiled nothing, so it's time for the Lone Ranger and his faithful companion Tonto. Besides, the LR has a personal score to settle with Butch Cavendish. Ride through eight areas of the West exploring towns, caves and reservations looking for the needed clues.
People say:
6
This is definitely Metal Gear in the old west. You get the same combo of action and adventure text, with just enough mystery thrown in to keep quest fans happy. There's not an abundance of action to be found anywhere in this cart, but it's structured to deliver some adventure fun.
6
As much as I like a good quest game, I just couldn't get overly excited about the lone Ranger. It was hard to stay interested in the adventure and it lacked the variety and openness found in others. While all the elements are in place it just doesn't come together.
5
The theme is totally original and it follows the old TV show pretty accurately. The game really is nothing new though. Having different types of game play helps but the game is not that exciting and becomes repetitive. Not great but not bad either, just average.
6
Lone Ranger is definitely different. The thought of the Lone Ranger having to go and buy silver bullets is kind of hard to swallow, but it's okay. The adventure will last for a good while, but mainly because you are constantly sent from place to place, not because of exploration.
The Lone Ranger Downloads

The Lone Ranger download
Hi ho Silver and away! The Lone Ranger is back with his faithful companion Tanto. Featuring over-head role-playing and shooting scenes that let you relive the cowboys and indians era on your NES. A good blend of action and strategy brings whole new theme to the NES line up.
My name is John Reid. I am the last of the Texas Rangers. Butch Cavendish and his gang murdered all the others, but I survived. I won't rest until Butch and his cohorts are ten feet under. They call me "The Lone Ranger."
Have Zapper, Will Travel
That's right, fellow gunslingers, thanks to Konami the Lone Ranger rides again on an NES near you. In this episode, Butch has kidnapped the President!
For authentic Old West action use the Zapper or go high-tech with Konami's own LaserScope, but an ordinary control pad is an acceptable substitute.
ProTip: It's the oldest trick in the book, but it works: hold the Zapper right up to the screen. You (almost) can't miss!
A Radical Roundup
Like another famous Konami shoot-to-thrill game, Bayou Billy, The Lone Ranger features several different viewpoints. The bulk of the game takes place in an angled overhead perspective similar to Snake's Revenge. Inside caves, hideouts, and other important areas, the screen mimics Rolling Thunder's side-view, horizontally-scrolling display. Finally, you get 3-D Zapper mazes like Operation Wolf. Individually none of these scenes stands out, but together they form a fairly entertaining contest.
In the first-person labyrinths, you can shoot stuff out of the air.

If you run into gangs in an open field, sprint down the left side and you'll escape without a scuffle.

How can a six-shooter be a machine gun? Rapid-fire! Use it against the boss dudes in the side-view sections.
A Good Deed a Day....
Your journey takes you through eight areas, each with a deed to be done or a mystery to be solved. Other than your sidekick, Tonto, who just offers advice and passwords, and of course Silver, you're on your own against a relentless force of villains. You combat these renegades with a standard six-shooter, TNT, and of course your bare knuckles. Rifles and extra ammo (including silver bullets) are on sale at gun shops. Fortunately, Tonto imparts a password after every area.
Don't waste your scratch on a train ticket from Tucson to Carson City - take a hike.

If а civilian asks, "Do you want to hear what I have to say?" but then babbles on about nothing special, it means you have to do something.
The Mild, Wild West
Taken for what it is, an adventure game with some nifty diversions and options, The Lone Ranger offers up enough run 'n gun action to keep Cowboy-wannabees satisfied. However, there's nothing overwhelming about the game's visuals, and while the occasional "Hi Yo Silver" voice-over accompanied by the theme song (the "William Tell Overture", of course) are enough to make anyone's pulse pound, some of the tunes are downright cheesy. Still, maybe you're just the 'Pro to bring law and order to the video frontier. Saddle up, Masked Man!
Hi ho, Nintendo-ites, away. The Lone Ranger rides again in Konami's new Laser Scope compatible game of the same name. This cowboy adventure takes the Masked Man and his faithful companion, Tonto, through eight trailblazing stages that include 15 Towns, four Camps, and a variety of Forts. Three dimensional landscapes make you feel as if you're really ridin' along those dusty trails of the Old West. Collect money to purchase more powerful weapons and ammo, and you'll have no problem defending yourself against enemy ambushes. Polish up those silver bullets, folks, and win the West, one more time.