California Speed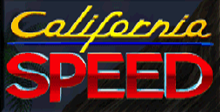 a game by Atari Co.
Platform:

Nintendo 64
See also: California Games
Gulp! California Speed is effectively the third game in the Cruis'n series, following in the malformed tyre tracks of world-class clunkers Cruis'n USA and Cruis'n World. Luckily, Midway has realised that the sheer nastiness of these two games just isn't good enough any more, and instead based California Speed more on their other racing franchise, the successful Rush series.
Set in the sun-smacked, brain-toasted state of California, California Speed features more than a dozen tracks, ranging from San Francisco to Silicon Valley. All the tracks have reversed and mirrored versions for use in the game's Tournament modes. Following the lead of the Rush games, the new tracks are loaded with outrageous features like rollercoasters, and there are as many as 20 different vehicles to race through them with. All the cars can be customised, again like Rush 2. Puke-inducing lime green with puce stripes cars ahoy!
While the look of the tracks may be more like Rush 2, the gameplay is designed to be arcade-simple, like the Cruis'n games, though hopefully with a bit more in the way of involvement. All you have to do is put the pedal to the metal and remember to steer! California Speed does promise more interesting tracks than its predecessors, with hidden short cuts to find and car physics that at least bare a passing resemblance to the real world.
The different vehicles include the usual American muscle, classic racers, Formula 1 cars and even a golf cart (?). Unlike the original Cruis'n games, where you simply took what you were given and made the best of it, California Speed allows players to tweak the performance of their car to suit the different track conditions.
What felled Cruis'n USA and Cruis'n World was the fact that what works in an arcade for 20 pence a play isn't necessarily worth forking out 50 quid or so to play at home. Hopefully, California Speed will have added a little more depth in its translation from coin-op to cartridge. We'll find out next issue when we get the import game in for review...
Similar Games
Viewing games 1 to 4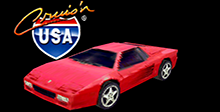 Cruis'n USA
Slam the pedal to the metal and hang on for a wild race across the highways of America. Catch all the roadside scenery and famous landmarks from three different driving perspectives - from San Francisco's Golden Gate Bridge, South Dakota's Mount Rushmore to the rolling hills of Appalachia! Select one of five difficulty levels and even remove street traffic or rival racers from the course. Select one of 10 short courses or go the distance on an extended 14-stage road race.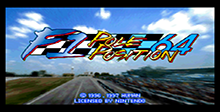 F1 Pole Position 64
Jump into the cockpit of an F1 racer and face the best teams in the world for a breathtaking race! Incredibly exciting: Official game of the FIA, the latest game from HUMAN will make your N64 roar through the 16 world championship circuits. From Monaco to San Marin, challenge the best drivers and feel the excitement of the World Grand Prix in 3D. 100% adrenalin! 2 arcade modes and a world championship mode which will help you experience a very realistic F1 simulation: settings of your vehicle, audio contact with the pit, changing weather conditions, collisions, retirement...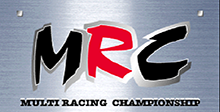 MRC: Multi-Racing Championship
Sit down, strap in and hang on for the most extreme racing challenge the world has to offer. Race over a variety of terrains, battle the elements and secure your place among rally racing's most elite drivers. MRC's fully customizable settings let you equip your vehicle to exploit road conditions and weather to your advantage! Choose from 8 high-performance, fully customizable vehicles, plus two secret vehicles. Navigate through three challenging courses. Enjoy multiple viewing perspectives from a racer's bird's-eye perspective to behind-the-vehicle views. Speed through highly detailed backgrounds, amazing graphics and impressive sound effects for a realistic racing experience.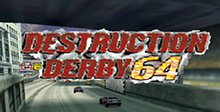 Destruction Derby 64
High speed chaos! Up to 12 opponents battle simultaneously on a dozen arenas and tracks. Hardcore demolition action! Exploding cars. Realistic damage. Hit the road! 24 vehicles, from stock cars to hot rods to ambulances. Multiplayer mayhem! Deathmatch, Destruction Race, Bomb Tag and Capture the Flag modes.
California Speed Downloads

California Speed download