Chelnov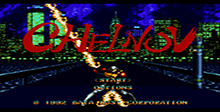 a game by Data East
Platform:

Genesis
Another name - Atomic Runner
The hero, a young scientist with a wonderful name Chelnov got involved into a series of unpleasant events which undermined and overturned all his life, father's death and sister's abduction. His father, a talented actor had been working on special military equipment. The villains as always happens in such situation, try to kill the genius to get hold of the new technologies. As a result old Chelnov is dead.
On the last breathe of live he opens his son the secret about a super powerful costume and dies. Infuriated and hungry for vengeance, Chelnov sets out on a very challenging quest. Now he is atomic runner, a super hero due to the equipment, and all the foes are in for a gloomy ending.
It's quite an interesting and combative game with various types of weapon and a number of uneasy bosses. The game is for one player only but with three levels of difficulty.
Chelnov Downloads

Chelnov download