Inspector Gadget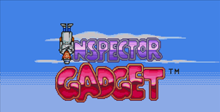 Platform:

SNES
See also: Movie-based Games
# of players: 1-player
Difficulty: Moderate
Available: December 1993
Theme: Action
Number of Levels: 6
Inspector Gadget is the world's first bionic policeman, and he is totally devoted to his job. Doctor Claw, the mastermind of the organization known as M.A.D., is Gadget's biggest enemy. Now, Dr. Claw has kidnapped Gadget's niece, Penny! It's up to Gadget to rescue her if he doesn't get captured himself.
This is a side-scrolling action game that is very much like the cartoon show. Gadget has all of his gadgets and (unfortunately) he is still really clumsy, but he always makes it through somehow - with a little help from Penny and Brain!
Inspector Gadget Downloads

Inspector Gadget download