OutRunners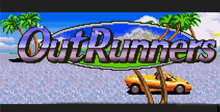 a game by Sega
Platform:

Genesis
Some games are so simple that you just plug 'em in and go. Outrunners falls into this category. There are no tires, engines, or hood- mounted machine guns to buy. Just take your favorite road machine out and eat blacktop 'til Judgment Day.
ProTip: Watch the entire demo at the beginning of the game for a useful profile on each car.
On the Fast Track
Outrunners doesn't ask much of you, so don't expect a lot back in return. This game just puts you behind the wheel of fortune of one of eight mean machines in a race through some pretty standard tracks.
In the Arcade version, you try to make it past certain checkpoints within an allotted time. In the Original mode, you just race your opponent to the finish line.
Hot Wheels
The graphics are about as fast as you could want for a driving game. The scenery whizzes by, but you still notice plenty of details, like the Conestoga wagons in the old West. The drawback is all the empty spaces with nothing to see.
If you round a corner and start to lose control, ease off the gas rather than braking.
The sound effects are good but muffled. You'll hear some bad voice translations and some fairly decent music. All in all, you'll snap your fingers while you grit your teeth.
Accident-Free
The game won't annoy you with its easy controls and smooth game play, but it will challenge you. The Arcade version demands some skill. Overall, this driving game will keep you glued to the wheel.
OutRunners Downloads

OutRunners download
Machine: Genesis
Manufacturer: Data East.
Out-dated poop. Ancient caca. To say anything more about this prehistoric auto-racing cart would just be a waste of our time, and yours.
Manufacturer: Sega of Japan
Machine: Mega Drive
Theme: Racing
Release: May 1994
Sega's big arcade hit is headed down the turnpike straight to the Mega Drive. All eight cars from the sizzling coin-guzzler original can be chosen for one or two-player competition, including Speed Buster and Road Monster. Because each machine has its own characteristics, it will take you a while to find which car suits you best.
The colorful settings and cool tunes are straight out of the arcade version. Two new modes have been added, a Head-to-Head Mode against computer drivers, and an International Round Trip where you can earn big bucks.
This is as good as the arcade title!
Manufacturer: DATA EAST
# of players: 1 OR 2
Difficulty: MODERATE
Available: JULY 1994
Theme: RACING
OutRunners is a new racing game that is sure to turn a few heads.
Featuring eight different cars to choose from, each with its own look and feel, everyone can pick the car best suited to his/her racing style. There are also two different modes of racing: The Arcade Mode lets you race your car over half the planet while avoiding animals like camels and elephants. The other mode of game play is called the Original Mode. Original Mode has shorter races which give you less time to catch up. This provides a more fast-paced and exciting race. Get ready to burn rubber!
Manufacturer: Data East
Machine: Genesis
Theme: Driving
The hot racing arcade smash is finally coming home! Data East is bringing it to the States, along with all of its non-stop racing action. Play the Arcade Mode or the original version. Select your car and get ready to roll. The game can change every time you play, because the checkpoints you reach can take you anywhere. Like the arcade, this one has great animation, and the sound isn't bad at all. If you are in the mood for some hot racing action, Outrunners will blow you away. It is one of the best racing games around.
Manufacturer: Sega of Japan
Machine: Mega Drive
Theme: Driving
Release: May 1994
Sega's latest driving extravaganza is almost here! This hot racing cart is 16-Meg in size and can be a two-player game, via split screen. As you can tell by the screen shots, this cart doesn't hold back in the graphics department. Like the arcade versions of the Outrun and Outrunners game, this home title is a fast-paced race through scenic areas. Your car can be automatic, or - for better acceleration - it can have a manual transmission. Expect it to smoke its way to the MD soon!
The popular arcade game is being shrunk down to fit in the Game Gear! Great racing action on the go! Race the clock to make it to your next checkpoint before time runs out.
One of the top driving games in coin-op history is Sega's Out Run. Now, Sega's bringing the series into '93 with the release of Out Runners. Two racers go head-to-head in the same style and quality of game play found in the original Out Run. The sequel, though, has thrown in some new, highly entertaining features to spice up the action.
Control is still Out Run-simple. Climb into the car cockpit to reign over a steering wheel, a gas pedal, and a brake pedal. Overall, the driving action is' pretty hot. Rev your engines, and then drive as fast as possible without running into anything. The lead car at every checkpoint gets to choose from one of two racing locales, such as Hawaii, Japan, Hong Kong, San Francisco, and more. As in the original Out Run, you've got to survive a series of races before you reach the final course.
Dashboard buttons, like those in Virtua Racing, enable you to alter the background tunes. The current song scrolls along the edge of the screen. There's even a DJ name Jake Elwood (someone at Sega's been watching too much Blues Brothers) from a radio station called Mega Radio Station (MRS). He'll update you on which car is in the lead.
Out Runner's scenery is decent, though a bit cartoony when compared with a game such as Air Combat with its high- resolution treatment. Although not earth- shattering technology, the game's still got the stuff that made the original fun, plus enough enhancements -- such as messing with the radio or seeing the status of the player following you -- to make it worth a test drive.