Paper Mario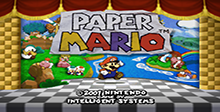 a game by Intelligent Systems
Platform:

Nintendo 64
See also: Mario games
Shown as Paper Mario at the show, this game has already been retitled Mario Story for its Japan release. The RPG adventure kicks off after Mario receives an invite to a party at Mushroom Castle. The original name of Paper Mario comes from the fact that all of the well known characters appear in flat 2-D form! They are of course all set in a glorious 3-D world but as shocking as this may be, the game is a side-scroller! Despite this, Nintendo is promising that the game will be bringing a new gameplay experience to the public. The original Mario 64 is still one of the best games on the N64 - who knows, perhaps this could top it?
First Impressions
What on earth is going on in this game? It uses a similar graphic style to Yoshi's Story but puts Mario and all the usual characters (Luigi, Koopa and Peach) from the Mario games into the starring roles - and they're ail ? flat so they virtually disappear I when they turn around! This special look is one that is uniquely Nintendo and although it doesn't exactly make the best use of the N64's graphical power - it is fascinating to watch! The game is a kind of a sequel to Super Mario RPG and uses similar role playing elements - Mario Story will certainly be a game to look forward to!
Similar Games
Viewing games 1 to 4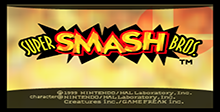 Super Smash Bros.
It's a Bumpin', Bruisin', Brawlin' Bash! The many worlds of Nintendo collide in the ultimate showdown of strength and skill! Up to four players can choose their favorite characters - complete with signature attacks - and go at it in Team Battles and Free-For-Alls. Or venture out on your own to conquer the 14 stages in single-player mode. Either way, Super Smash Bros. is a no-holds-barred action-fest that will keep you coming back for more!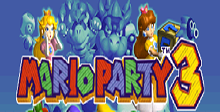 Mario Party 3
Mario and friends are throwing a party and you're invited. It's their biggest bash yet, with seventy totally new Mini-Games and five brand new adventure boards. You'll be the life of the party as you punch, pound and stampede right over your opponents in a multiplayer melee or go head-to-head in the new two-player duel mode. You can even unlock new characters in the one-player challenge. With so much fun and excitement, this is a bash you'll just have to crash!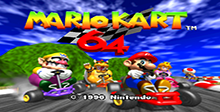 Mario Kart 64
Three... Two... One... GO! The signal light changes and you drop the pedal to the metal. Take on up to three friends in the split-screen VS games, or race solo in the Mario GP. Tell your friends to bring it on in the highly competitive Battle mode. Advanced features allow you to race with your "Ghost". The driving data from your best run appears as a transparent character on the screen. No longer must you simply race against the clock - you can actually race against yourself!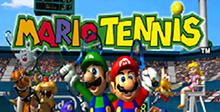 Mario Tennis
All of your favorite characters hit the court in a wild and wacky multiplayer tennis game from the makers of Mario Golf. Mario, Luigi, Bowser, Peach, Toad, and Donkey Kong lead off the all-star, 14-player line-up. The fast-paced action will have you unleashing vicious volleys, life-saving lobs, ballistic backhands and electrifying super-charged smashes!
Paper Mario Downloads

Paper Mario download