Ren & Stimpy Show: Buckeroos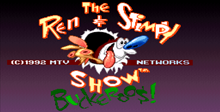 a game by Imagineering Inc.
Platform:

SNES
See also: Ren & Stimpy Games
Ren & Stimpy had great expectations, and it lives up to some of them (very good graphics and voice, plus the clever idea of making each section based on a cartoon episode), yet the control could be improved greatly.
Other games by
Imagineering Inc.
Ren & Stimpy Show: Buckeroos Downloads

Ren & Stimpy Show: Buckeroos download
In the game, you control Ren & Stimpy through various side scrolling levels which are based on different episodes of the cartoon show. Episodes the levels are based on are Space Madness,Out West, and Robin Hoek.
In Space Madness, Space Cadet Stimpy must get a dazed Ren to the sick bay to feed him some chicken soup to cure him of his space madness. You will guide Ren through the Space Diner, the Laboratory, the Button Room and the Zero Gravity Bathroom to get to the sick bay. There are also parts of this level in which you will control the spacecraft that involves side scrolling shoot em up gameplay.