Space Invaders 91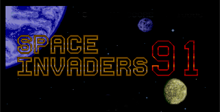 a game by Taito
Platform:

Genesis
See also: Space Invaders Games
Levels: 100
Theme: Shooter
Players: 1
Difficulty: Average
They're back! The veterans of the Atari empire have returned in 16-bit! You are in control of an sliding cannon which is your only weapon to take out the descending aliens.
Space Invaders 91 Downloads

Space Invaders 91 download
Old games never go away, they just disappear for a while and then come back for a new generation of players. SI is one of the 'new' old games, and this time it has returned after being refurbished with spectacular 16 bit backgrounds and improved sounds.