Brave Alchemist Colette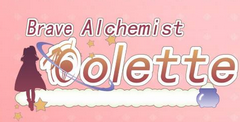 Download Brave Alchemist Colette and embark on a magical journey with Colette, a young alchemist! Craft potions, solve puzzles, and overcome challenges in this enchanting action-adventure game. Are you ready to unlock the secrets of alchemy? Play now!
If you are on the hunt for a solid lewd RPG, Brave Alchemist Colette is one that I highly recommend you check out. It is a very well-made game and a lewd RPG that is for once NOT made with RPG Maker which makes it stand out from all the rest that are out there. So, keep on reading to see why this is a damn solid RPG with a whole lot of lewdness!
Look Whose In Charge Now
The story that Brave Alchemist Colette is one that I found pretty charming and that may not have huge stakes, but it does tell a story that I found amusing. The main character and the lady we play as is Collette and she is an alchemist in training. Her super-hot master Priscilla is training her well and one day she needs to go on a mission. She leaves Collette in charge!
She leaves her with a set of instructions that are to basically make sure the townspeople are looked after. She takes this to heart and sets out to make sure that the people are happy and getting their rocks off!
You Want Me To Do What????
Much of the stuff that you have to do in Brave Alchemist Colette is pretty crazy, but it kind of works. The game is an old-school RPG and it has a lot for you to do. From collecting semen, making Viagra, and helping a guy under a tree by letting him jerk off to you. How crazy is that, sure it sounds nuts, but it works and the game I feel does it with a real wink at the player.
You do also have some fun mini-games to do as well such as a fun combat system and even a stealth section where you have to sneak around without getting seen. It may not be doing anything majorly new in terms of RPG's, but what is here is fun and has a real charm to it all.
Someone For Everyone
The presentation of Brave Alchemist Colette is great. I liked the way the game looks like an older game, but with some very well drawn art. What really grabs your attention here is the fantastic CGs that the game has. There is no much in the way of animation, but what is here is very well drawn.
There is a great selection of girls in the game so I am sure no matter what you like there will be a lady here for you. The soundtrack is inoffensive and does fit with the game very well, but do not expect to be nodding your head to the music the whole time you are playing the game.
8.5
I had a great time playing through Brave Alchemist Colette. The whole premise of the game and the stuff these townsfolk want you to do is just ridiculous, but it works and it works very well. As far as lewd RPGs go, this is one that I had an awesome time with and it is a game that is very easy to suggest to you guys.
Pros:
I liked Colette as a character, she was fun and cool
Plenty of sexy ladies to entertain yourself with
The CGs are very well done and look great
I liked how there was variety to the gameplay
The story is weird, but I did like it
Cons:
What is the deal with these townsfolk???
Could have used more animation in the sex scenes
Download Brave Alchemist Colette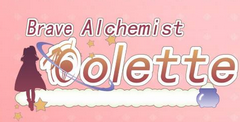 System requirements:
PC compatible
Operating systems: Windows 10/Windows 8/Windows 7/2000/Vista/WinXP
Game Reviews
I am pretty excited to talk to you about Brave Alchemist Colette today as it is a lewd RPG that I have had a ton of fun with. It is very well made, has a lot of charm, and has some of the craziest NPCs that I have ever seen. If you are someone that likes lewd RPGs, but you are in the mood for something more lighthearted and fun, you have to check this one out as you are in for a real treat here. I have played through this a couple of times and thoroughly enjoyed it.
Training Day
No, this story is not based on the awesome Ethan Hawke and Denzel Washington movie, Brave Alchemist Colette is actually about a young woman called Colette who is training to become an alchemist. She is doing a great job and her master, Priscilla, who is freaking gorgeous by the way is pretty happy with the way that her training is going and all seems well. However, one day, Colette gets the chance to prove herself to Priscilla.
Taking Charge
One day, Priscilla is tasked with going on a special mission and that means that our Brave Alchemist Colette is going to need to take charge of the potion shop as well as look after the town and make sure that the townsfolk are happy. Well, she is eager to please and as well as making sure people are getting the stuff they want. Colette takes "keep them happy" with making sure that they are getting laid. It is fun stuff and the story doesn't take itself seriously at all so you will get a few chuckles and laughs out of it.
A Ph.D. In Personality
That is a very obscure reference and if you get it, bravo! Anyway, Brave Alchemist Colette is just such a charming game when it comes to its visuals. Colette herself could not be any cuter and she walks that fine line between being hot and cute. The gameplay is a typical top down RPG, but it is not pixel art (well it kind of is) it is much smoother than that and as a result, the game has a more modern look to it. The lewd content here is a lot of fun to with Colette getting herself into all kinds of sexy shenanigans!
These People Are Crazy
The story and the presentation of Brave Alchemist Colette are great and I am happy to say that so is the gameplay. We play as Colette as we go around town trying to help these crazy townspeople with their problems. Seriously, these people have some major issues and you will find yourself smiling at the crazy stuff you end up having to do. You have to make potions for people, engage in a fun combat system and even do a bit of stealth and partake in some fun mini-games. They have really mixed things up here to make sure that the game never gets boring for the player.
9
Fun, fun is the best way to describe Brave Alchemist Colette. This is such a wonderful lewd RPG and a game that I pretty much had a smile on my face playing the whole time. It has a cute protagonist and some of the most bat poop crazy NPCs that you will come across. Tying the whole thing together is a fun RPG that has a nice variety to it all so that the game never gets old.
Pros:
I loved how crazy this town was
Seriously, these people are freaking nuts!
The art is very charming…. And naughty
The gameplay is fun and has a lot of variety to it
Cons:
It may be a bit on the weird side for some people
The lewd content is great, but it would be even better if it was all animated
See Also
Viewing games 1 to 8