7UP Fido Dido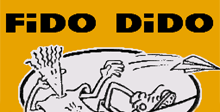 a game by Kaneko
Platform:

Genesis
Fido Dido is a black and white cartoon character that turns whatever he touches into color. Why? I don't know, but it sure makes an entertaining game. Fido Dido is now for both the SNES and Genesis.
7UP Fido Dido Downloads

7UP Fido Dido download
# of players: 1
Difficulty: Moderates
Available: December 1993
Theme: Action
Number of Levels: 6+
The artist who draws Fido Dido falls asleep at her drawing table. When she is in a deep sleep, Fido springs to life from the drawing pad. As he moves around the table, he gets sucked into any item on the table that he happens to get near, such as a pencil holder, a postcard, a Sega Genesis, a book, a waste basket and even the artist's ear. Each level presents a unique surrounding and poses unusual problems for Fido Dido to solve.
Fido Dido has an interesting idea, but it is buried in a game that has poor control and unappealing game play. The graphics are very well done, but the control gets very frustrating as does the game with each mandatory hit taken.
It is a quite a funny and interesting game about a certain painted dude who runs in different weird levels. He collects all sorts of useful things which help him to move along the levels and to struggle against enemies.
There are also bonus levels in the game. It's a nice quest with three levels of difficulty for one player.
While FIDO DIDO may sound like a dog's name, he's actually a black-and-white cartoon character whose touch turns everything to color! This intelligent lad is a master puzzle solver, using his unconventional wisdom and uncommon wit to get himself out of seemingly impossible situations. It's up to you to lead Fido through seven wacky adventures that will take you to places you've never thought you'd go. You'll have to get Fido through pencil holders, postcards, computers, books, a wastebasket, and even his creator's ear!
This is a very good platform game based on a cartoon from the early 80's, The graphics were great for it's day and still look okay today, A must try.