Ms. Pac-Man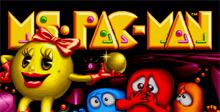 This classic gets updated with this new version for the SNES. You run around 36 mazes with options like two- player action and a Pac Booster move. It all adds up to familiar, if repetitive, fun for Pac-fans.
Williams did add something new: mildly frustrating controls. The SNES controller simply isn't as effective (or fun) as the original joystick, and you'll wonder why your heroine sometimes turns right into the approaching ghosts even though you swear you turned the other way.
The sharp, rudimentary graphics are just as you remember, and the 1980s music gets old fast.
Despite its flaws, this tried- and-true gameplay is almost foolproof. If you don't have Pac-Man 2: The New Adventures (Ms. Pac-Man was accessible via password), then pick up this piece of history.
ProTips:
At the end of each game, go for extra points before you gobble up the last pellets.
In the two-player cooperative game, stay fairly close to your partner because you can bump each other out of harm's way.
Similar Games
Viewing games 1 to 5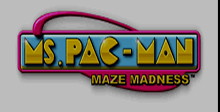 Ms. Pac-Man Maze Madness
Chomp your way through mystical worlds to save Pac-Land. Free the last worlds of Pac-Land fromt he horrid witch Mesmeralda. Videogame's favorite heroine is back to save the day!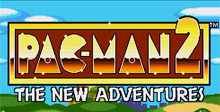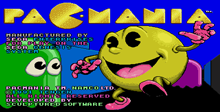 Pac-Mania
Pac-Mania is a variation on the game Pacman. You need to guide Pac-Man around a maze and eat all of the dots on the board in order to procede on to the next round.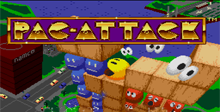 Pac-Attack
A combination of Pac-Man and Tetris, Pac-Attack mixes the ghost-gobbling action of the former with the falling block puzzle aspects of the latter.
Ms. Pac-Man Downloads

Ms. Pac-Man download
She's back, and she's badder than an Olympic contender. Ms. Pac-Man brings all the fun and excitement of the arcade game to the Game Gear.
If you loved the Pac-Man games, then you loved Ms. Pac-Man, and if you loved Ms. Pac-Man at the arcades, you'll love her here, too. It's just as good as the arcade game, and it has the music, to boot.
Younger players who don't remember the original will be fascinated by the maze game that made millions. The controls are easy to learn, and this is one game you don't need a manual to play.
Ms. Pac knows her stuff, and she's ready to show it on the Game Gear. You go, girl!
ProTips:
Use the tunnels to slow down fast-approaching enemies.
Listen for audio clues when your enemies are about to change from edible blue back to their original colors.
The all time classic is back. Ms. PAC Man must gobble up dots, power pills, and an occasional ghost to get through each maze. Everything has been faithfully recaptured in the Lynx version, even the cute intermissions from the arcade are there! Ms. Pac Man is a blast from the past anywhere you go, and don't worry, the patterns have all been changed.
Manufacturer: Atari
Machine: Lynx
Matthew Kennedy of Clifton Park, New York, has found a great egg for this Lynx game. First press PAUSE during the game, and then press Button A twice, OPTION 1, Button A twice, Button B and, finally, OPTION 1. If you entered the code correctly, a lightning bolt will appear at the top of the screen next to your score. Now when you press Button during game play, you'll be able to tear around the screen at lightning speed. You can do this as many times as you'd like, although only one lightning bolt will appear at a time.
Manufacturer: Namco
Machine: Game Gear
Guide the familiar little pink-bowed yellow spot as she eats power pellets and avoids... well, you know. This scores big points in the nostalgia department, but it just can't compete in the modern gaming world.
Old classics never die, they just go to the GameBoy. Relive all your favorite memories with this terrific adaption from the good ol' coin-op. It even has all the old cinemas, like how she met Pac Man. Overall, it's a terrific classic reborn.
Manufacturer: Namco
Machine: Game Boy
Yes, she's back in a game that is identical to the arcade. You know the point: run around and eat, eat, eat your way to victory. Fans of the arcade classic will surely, want to pick this one up. This is a simple, fun game.
Manufacturer: Tengen
Machine: Genesis
Theme: Maze
Difficulty: Easy
Number of Players: 1 or 2
The Arcade Classic!
Ms. Pac-Man was the sequel to one of the most popular games ever, Pac-Man. It has been brought out for almost every system ever made from the Atari 2600 to most personal computers and now the Sega Genesis. This latest version may be the best yet for it is loaded with features that weren't even found in the original coin-op. There is a wide variety of mazes including the arcade version, a mini version, a giant version, and the aptly named strange maze which is truly bizarre. Another unique feature is the two player cooperative mode in which the second player takes the role of Pac-Man. The graphics are identical to its arcade namesake as are the music and sound effects. Add cinema displays and a turbo booster and an old game is filled with new life. Fans as well as newcomers will enjoy this addicting maze game.
Theme: Maze
Players: 1-2
Difficulty: Average
The oldest classic, and still popular game is now in the 16-bit format! Race through a maze, gobbling dots and avoiding the rampaging ghosts. Grab the power pill and chase the ghosts.
Pac people never turn down an encore, so the feminine member of the Pac-family, Ms. Pac-Man, is back again in an all new Genesis game. For the select few who aren't familiar with this famous round-gal, this is how it goes. Ms. Pac-Man hungrily eats her way through dozens of mazes, gobbling up "point-dots," fruit goodies, and Power Pills. Dining and dashing is the key ingredient of this moveable feast, as those ever nasty ghosts Inky, Blinky, Winky, and Clyde are hot on Ms. Pac-Man's trail. See ya' round, Ms, Pac-Man!
Small and round with voracious appetite, this gat's on the move to avoid quite a fright. Zipping 'round corners and gobbling up food, in hopes of killing a ghoulish brood. I'm sure you know her, there's no need to guess, it could only be Ms. Рас Man who's caught in this mess. Master or novice, there's plenty a maze, guaranteed satisfaction for many long days. With one or two players, it's all up to you, so plug in your Nintendo and show us who's who. Are you the master, or will a ghost one up you? Tengen's Ms. Рас Man for the Nintendo.
Big Mouth
With over 25 different mazes to choose from, there's plenty of action and food to keep even the hungriest of Рас women (and men) happy. Of course there are those pesky ghosts hanging around who would just love to see you starve. Not to worry though, just flip on your Рас booster and burn past those foolish ghouls at top speed. Or, better yet, swallow a power pill and eat them for dinner!
ProTip: Position Ms. Рас Man right next to a power pill and wait until a few ghosts swoop down to surround you. Now, just as you're on the verge of death from their ghostly grasp, chow down on the power pill and beat them at their own lethal game.
Double Trouble
If you've got a buddy handy, go for a two player game. You can either play as allies in the cooperative play level or as enemies in competitive play.
Its а Рас eat Рас world in the competition mode. Good strategy is your best ally, so gain the edge by hogging as many power pills as possible. This is effective because every power pill you eat will automatically paralyze your opponent, allowing you a chance to rack up mega points!
It you really want to get aggressive in competition, ram straight into your opponent. This will catapult him (or her) backwards and, with some luck, right into the arms of a ghost!
With a great selection of crazy mazes and four different levels of difficulty, there's plenty of food for thought to satisfy even the most insatiable "big Рас attacks"!