NBA Live 2000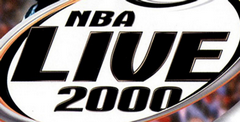 a game by NuFX, Inc.
Platforms: PSX

Nintendo 64
See also: Basketball Games, NBA Games
Overview
For all you basketball fans, a change in the weather triggers a certain primordial feeling (if you don't experience this, rent Hoosiers and get back to me). When the leaves are done falling off the trees and the air gets colder it means one thing: it's time to lace up the sneakers and play some b-ball. It's also time to pick up the latest version of the NBA videogame.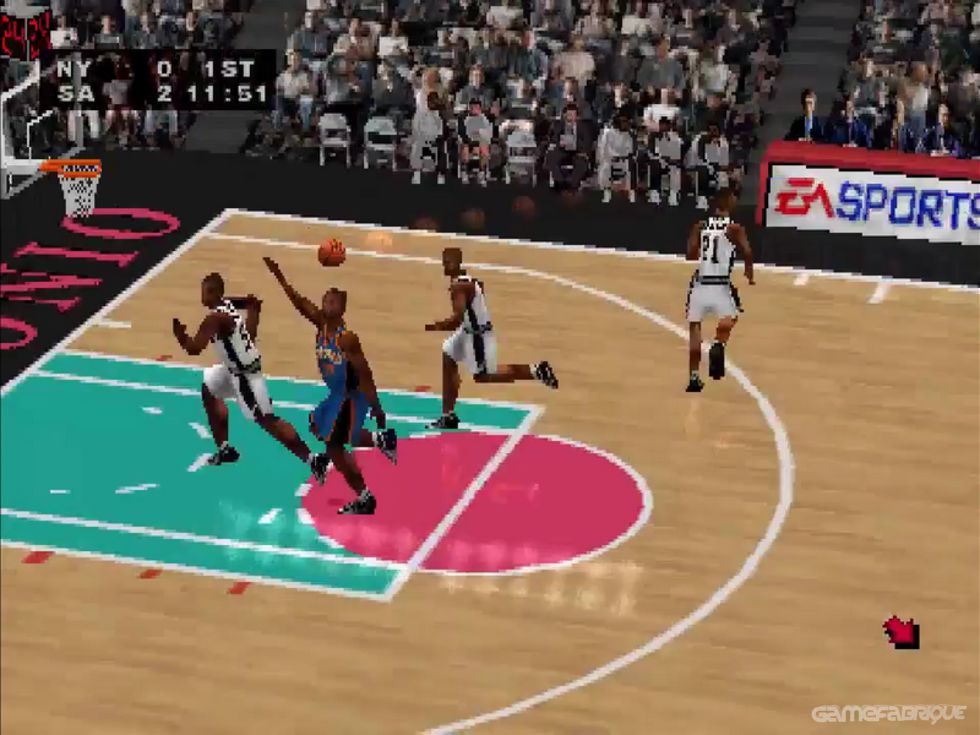 Gameplay
It seems that NBA rosters have gotten more volatile every year. As the NBA season started this year, I got the urge and stuck in my copy of NBA Live 99. After spending way too long doing all the roster changes, I still could not put together a version of the Seattle Sonics that had more than six people on the team. I got pretty pissed off and put the game away, waiting for this year's version to come out. Well, it's finally here and it was worth the wait.
For starters, the rosters are very accurate. All the big name rookies from this and last year are present and accounted for, just don't expect much. Their attributes are dumbed down in my opinion, but you can always crank the rankings up. Repeat after me, Lamar Odom is better than Steve Kerr… There's also a legends feature that I've seen in baseball games but never in a basketball game. This is a great idea! There are five all-decade teams that you can pit against each other or current teams. By completing certain tasks you can unlock a hall-of-famer. For example, you can unlock Michael Jordan by beating him in a game of one on one in the highest difficulty setting. Once unlocked, you can place them on the free agents list and add them to any team's roster.
The games within this game are fun, especially in multiplayer mode. There is a practice mode, where you have a player on a court by himself. This is a nice feature for newcomers to theNBA Live series as you can practice your offensive moves without defenders. There's a three point game, full or (strike) shortened season, playoff, and a one-on-one game. The one-on-one game was done very well. You play on a New York City style streetcourt and it feels like the real thing. There are cars on the road (though an ambulance would have been a nice touch) and there is even trash talking between players: "Who's yo' Daddy?"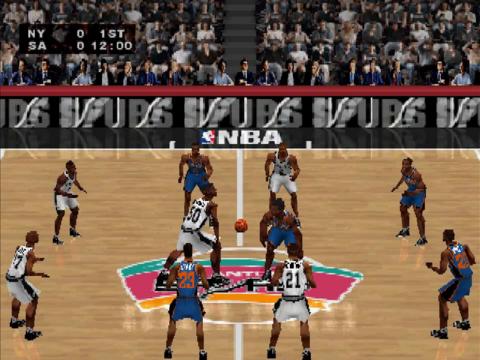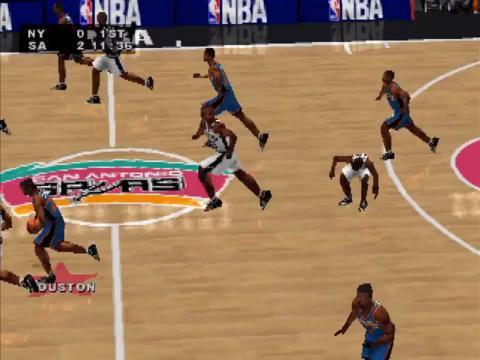 The controls are good once you learn them. Besides all the usual controls, you can force your player to dunk, shoot a layup, or a hook shot. This is a good idea in theory, but it sucked in reality. The player basically misses every dunk that you force it to do if there is a defender anywhere near. The game has also made one-on-one attacks on the rack a lot harder to execute. This isn't realistic at all, good players will be able to break down a defender, blow by him, and score. The game favors an inside-out, or quick pass and shoot, approach over a one-on-one style of offense. Whether gameplay is improved or diminished from last year's game depends on who you ask. I think it's a good idea for a game to reward good teamwork and passing rather than letting players do one-on-one highlight reel plays over and over.
Graphics & Audio
The graphics are okay, they are very similar to last year's version. The players kinda look like their namesakes, albeit with a robotic looking polygon head. Their movements are very lifelike. My complaints are that all of the players look the same when doing their moves and the hook shots look bad. The player jacks his arm straight up in the air, then breaks his wrist. The motion is herky jerky, not fluid. There are also two new free throw animations: a close up of the player dribbling before EACH free throw and a shot of the player getting some skin from teammates after the first free throw. It could be said that this makes the game more lifelike. I think they take too long and even bypassing them by pressing start gets really old (if you hit start too early, you pause the game).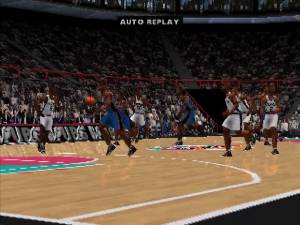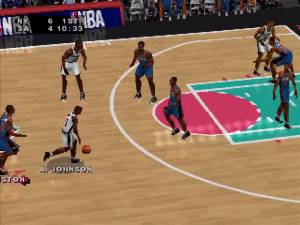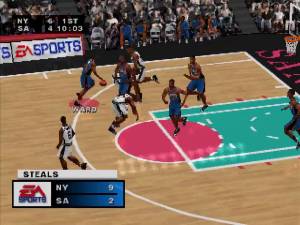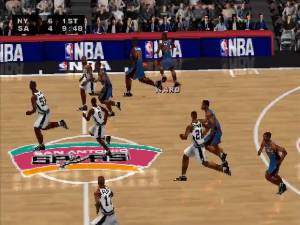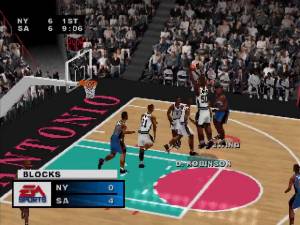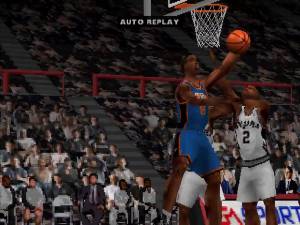 Bottom Line
There are numerous changes from last year's version. The biggest gameplay change is that EA has made this game more of a realistic simulation instead of just being a dunkfest. It is a lot harder to isolate, breakdown a defender, and drive by him. My only complaints are that the computer defender can get superhuman bursts of speed and not just catch up to, but get in front of a streaking Michael Jordan on the break. Not likely! The computer also blocks every dunk attempt when you manually choose to dunk. You're better off just pressing the shoot button and letting the onscreen player pick the best shot.
The addition of the decade all-star teams makes this game a must have. And the one-on-one game is very fun, especially in two-player mode. The dream match-ups that can be staged brings an added dimension not seen since Bird vs Dr. J on the Commodore 64. The possibilities are endless: Shaq vs. Wilt, Dr. J vs. Jordan, Bird vs. West, "Pistol" Pete Maravich vs. "White Chocolate" Jason Williams, Gheorghe Muresan vs. Mugsy Bougues. When you figure that this game has a five-on-five game, a one-on-one game, and includes the best players to ever play pro basketball, it adds up to an excellent b-ball value for your Playstation dollar.
Similar Games
Viewing games 1 to 4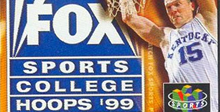 Fox Sports College Hoops '99
Complete college basketball license featuring over 120 college teams. NCAA Tournament, NCAA Sweet 16 and Final Four. Pre-season and Conference tournaments. In-depth player attributes and skill ratings. Three difficulty levels, easy to learn controls, and multiple camera angles. Authentic college basketball look and feel with real logos, uniforms and home courts, and real college offensive and defensive plays.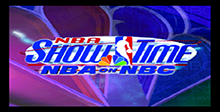 NBA Showtime: NBA on NBC
The NBA like you've never seen it before! NBA Showtime: NBA on NBC brings you the top players from each team in a heart-pounding, pulse-racing above-the-rim match-up! You'll see the intensity on their faces and hear it in their voices, you'll feel the power of every pass and every shot! This is what the NBA is all about! Go for rebounds and 3-pointers in all 28 arenas around the league. Choose from over 130 real NBA players plus hidden characters!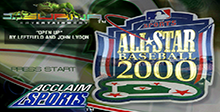 All-Star Baseball 2000
You can learn the basics of baseball in an afternoon, then spend a lifetime mastering its intricacies. All-Star Baseball 2000 isn't quite so daunting, but expect to log lots of time on the Pause screens while you figure it out. Created by Iguana, ASB 2000 has the glossy graphics and excellent sound engineering you'd expect from the team that brought you All-Star Baseball '99, NFL Quarterback Club 99 and Turok 2.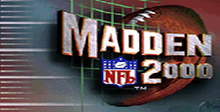 Madden NFL 2000
The speed and power of NFL football! Faster moves and breakaway speed for bigger plays. Body slams and collisions, drag-downs and de-cleaters, explosive sticking and crunching gang tackles. Ultra-fast blur moves, helmet-popping hits, more scoring, special animations, and in-your-face commentary. Multiplayer Franchise mode, authentic stadium atmosphere, Hot Routes, Madden Challenge and more!