Summer Fling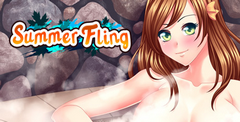 Click the "Install Game" button to initiate the free file download and get compact download launcher. Locate the executable file in your local folder and begin the launcher to install your desired game.
One of the more interesting erotic games you will ever play is Summer Fling. Summer Fling takes what you already love about sexy visual novel style games and sprinkles enough of its own magic on top to really make it stand out from the crowd.
What Is My Name
As is the case with all story driven erotic games Summer Fling has a great protagonist. What makes her so special is that you actually get to name her. You may be wondering why this is a big deal, but it does actually make you get more invested in the goings on in the game.
There Is A House On A Lake
The story that is behind Summer Fling is that you and your two best friends from high school, Yuuki and Saeki are staying at your parent's lake house. This is the last summer before the three girls are heading off to University and they are going all out.
They want to cut loose, have some fun and of course hook up and find love! The story in the game is very lighthearted and while it does have some nice and sexy moments. I really do like how the story of Summer Fling has a lot of heart too.
Wow, Look At Those… Eyes!
One of the things that is sure to catch your attention when you first fire up Summer Fling is the visual style. I really like this manga type art style they have going on, the girls do have exaggerated features, but I do think it actually works well in this game.
The whole game as far as every character goes has a really nice "polish" to it and I think that the character designs are pretty darn good. The game does have a special viewer where you can check the characters out more closely which is something, I am sure many players will be happy about.
While I think that the characters look great. They could have perhaps done just a tad more to make the rest of the town look a bit better. There is just a real lack of anything in the backgrounds and while not a big deal in the grand scheme of things. I would have liked to have seen a bit more "life" in the backgrounds.
Talk How You Want To Talk
You do not need a million guesses to figure out what the gameplay is Summer Fling is all about. The main three characters are looking to have a great time and the choices that you make when you talk to other players will be what dictates if they do or if they do not and who they have a good time with and who they do not.
The dialogue is pretty fun and witty and as I said earlier there really is a certain "charm" to Summer Fling that many other erotic games struggle to do. Yes, there are some hot and sexy moments, but you do actually like the three main girls. You can steer the story in the direction you want and I do think it is worth playing at least a couple of times to see the different ways the story can play out.
8
While Summer Fling is not a super long game, I do think that what is here is great. The characters are interesting, you can name your character and there are different ways for the story to end. If you like visual novel style games then I really do think that Summer Fling is going to be one you have a lot of fun with.
Pros:
Naming the main character is a great idea
There are tons of great characters to chat to
The way the story ends can be shaped by you
The whole game is fun to play
Your two high school friends are fun
Cons:
The game is not all that long
The uncensored patch for the game has to be downloaded separately
Download Summer Fling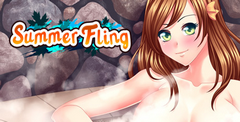 System requirements:
PC compatible
Operating systems: Windows 10/Windows 8/Windows 7/2000/Vista/WinXP
Game Reviews
Summer Fling is an erotic game and a visual novel style game that is actually quite popular. If you like your games to not just be "sexy" but also have a story that has some heart and humor. Well, you very may have just found the right game for you in Summer Fling.
The Story
The first that that is worth mentioning about Summer Fling is the character you play as. Summer Fling is one of the only erotic games that I can think of where you get to name the main character you play as. This may not sound like much, but it is kind of cool and a feature I think more games could make use of. The game is about you and your two friends from high school, Yuuki and Saeki. You guys are staying at your parent's lake house so that you can have one last bit of fun before you head off to university. It is a pretty cliché kind of story for a visual novel style game, but it is also pretty fun. You have "relationships" and fun and you even get to shape the way the story comes to an end which is pretty cool.
The Presentation
Like many other erotic games, Summer Fling is going to a somewhat anime, manga kind of vibe. The characters have very overexaggerated features if you know what I am saying! They do have a cuteness about them and in all, I do like the character designs. There is a CG viewer so you can get a closer look if you know what I mean! The different locations that you can go to are not quite as well done as the characters in my opinion. They are not bad or anything like that, I just feel that they could have had a bit more going on. To be fair this is a lake house in a sleepy town so that could be why they decide not to have too much hustle and bustle going on in this little town.
The Gameplay
Summer Fling is a visual novel kind of erotic game and it does what it does very well. Of course, as is the case with other games in this genre, the story is going to be what makes or breaks the experience for you. I actually enjoyed the story and found the main protagonist to be interesting and of course, her two high school friends (especially Saeki) were pretty awesome too. You will chat with various people and try to make relationships with them. The choices you make as you play the game will move the story along and ultimately decide what kind of ending you get. I played twice and got a different ending both times by changing around a few things here and there.
Final Thoughts On Summer Fling
I do not think that anyone is ever going to accuse Summer Fling of being the biggest erotic game ever made as it is a bit on the short side. Still, I found the story not just very sexy, but also fun too. It has rather witty writing and I did enjoy being able to actually name the main character. If you like erotic games and visual novel games, Summer Sling is well worth checking out.
8.5/10
Pros:
You can name the main character
Your two friends are cool
Plenty of interesting characters
You can shape the way the story ends
It is pretty fun to play through
Cons:
One of the shorter visual novel style games I have played
You have to download a separate uncensored patch
See Also
Viewing games 1 to 2