Insult Order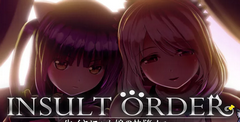 Download Insult Order and teach two timid girls about the wonders of sex! This is a lewd game that is just all about XXX hardcore sex. Teach these two girls so that they can embark on wild sexy adventures and make a lot of money in the process!
If you have played and enjoyed games like Custom Maid then you are going to have a great time with Insult Order. This is one of the most highly polished lewd games that I have ever had the pleasure to play. I am going to say right at the start that this is a lewd game that is not pretending to be anything else, this is all about the banging so if that is what you want then step on inside this wonderful "nightclub".
Train Them Up
There is very little in the way of a story on offer here, but that does not matter. As I said, this game is 100 percent about the sex and it fully embraces that right from the start. The little bit of story that is here is about you having to train these two sexy, but timid girls so that they can work in this luxury nightclub that is really a place for people to come and fulfill their sexual fantasies. The story of Insult Order progresses as the girls get more and more comfortable and are willing to do more lewd things.
The Best Around!
The visuals in this game are some of the best that I have ever seen in a lewd game. the game goes for an anime-style and while some people might complain that there is not much in the way of customization with the girls. I say that the trade-off you get for that with the graphics being so great and the animation looking nice and real is more than worth it.
There is pretty much every sex position that you could imagine in this game. You can even turn on an internal camera if you like and you do have a bit of control over what is happening. Seriously, you will be blown away by how good Insult Order looks.
Moving On Up The Ladder Of Lewd
The whole point of the game is to score points with each girl. The more points that you score with the girls then the lewder acts they will be willing to do. There is not much of a "game" here as it is quite easy to progress. One strange thing is that until you unlock the free play mode. You actually move on from some sex acts and cannot do them again until you have finished the game.
It is quite easy to get your score up and the game is never really punishing you for anything that you may do "wrong". So, I found there to be very little if any frustrating with the game at all.
9
While you could make the argument that Insult Order does not offer much in terms of actual gameplay. As far as lewd games go that are just all about sex, this one here is one of the better ones I have played. The quality of the graphics and the spectacular animation really does bring these girls to life in a way that many other lewd games can only dream of. I have even heard that there is talk of bringing this to VR which I am very excited for.
Pros:
This is one of the best-looking lewd games I have ever played
There are a ton of different sex acts you can do
The premise of the game is kind of neat
I liked both of the girls
Progressing through the game is pretty easy
Cons:
There is not much actual gameplay on offer here
Some sex acts get locked once you have done them
Download Insult Order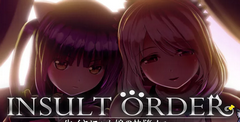 Minimal System Requirements:
CPU: INTEL 2 GHz Dual Core
VRAM: 512 MB
RAM: 4 GB
OS: Windows XP, Vista, 7
DirectX: 11
HDD: 7 GB free
System Requirements:
CPU: INTEL 2 GHz Dual Core
VRAM: 1 GB
RAM: 4 GB
OS: Windows 8, 8.1, 10
DirectX: 10
HDD: 7 GB free
See Also
Viewing games 1 to 8