Witch Hunter Trainer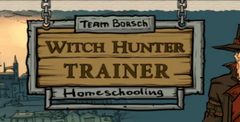 Click the "Install Game" button to initiate the file download and get compact download launcher. Locate the executable file in your local folder and begin the launcher to install your desired game.
I have always been interested in anything that has a kind of gothic look to it and that is what attracted me to Witch Hunter Trainer. I have played more than a few of these "trainer" style games and this one is probably one of the most memorable that I have ever played. It should go without saying, but this is a game that is 100 percent not something you should be playing at work if you know what I am saying!
Stake Through The Heart & Your To Blame
As this is an adult visual novel the game will mostly live or die by its story. Thankfully the story being told in Witch Hunter Trainer is one of the best things about it. The game is set during the 1800s and the character we play as is called Sam. Sam and… Cupid are about to train someone when a stranger appears looking for help.
You of course help her and she "gives it to you" in return for helping her. What I liked about the story here is that it may be a tad longwinded in places, but it is written very well. It will make you laugh and the way it has all this cool magical stuff is something I did enjoy.
Choices That Matter
Like most other visual novel games, Witch Hunter Trainer is not exactly full to the brim in the gameplay department. Most of what you will be doing is reading text and then deciding how you want to respond to a situation, comment, or whatever. The way you will respond will decide what scene you get next. One thing that I thought was clever was how the game gives you a XXX scene pretty early on.
The choices you make do feel like they matter, I just wish there was more of them or perhaps some kind of mini-game aspect to this to give it that little bit extra content when it comes to the gameplay.
Gothic Thots
I love the way that Witch Hunter Trainer. This game has a very slick-looking art style that is somewhere between a comic book and animated TV series. The main female character is sexy as hell and the different sex scenes are very well done and have a bit of animation in them too.
The whole gothic style of the game is great and it gives the game a style all of its own that I really do like. As far as the style of the game goes, I would have to say that this is one of the most appealing lewd games I have played in quite some time.
8
I really enjoyed my time with Witch Hunter Trainer. I have to be honest and say that I am not sure it is the kind of game I would play through multiple times, but as a one and done kind of lewd visual novel it is pretty great. It looks like a million bucks and the fact they animated parts of the sex scenes really did make me like what they were doing even more. The real star though is the awesome gothic horror setting which is something you do not see a great deal in games like this.
Pros:
The whole premise of the story is great
The visuals are absolutely amazing
I liked how the sound was a bit understated
This game has some fantastic XXX scenes
Cons:
It is perhaps lacking a bit in the gameplay department
I do feel most of the appeal is the gothic horror setting so you need to be into that
Download Witch Hunter Trainer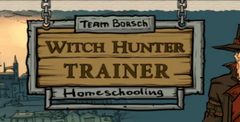 System requirements:
PC compatible
Operating systems: Windows 10/Windows 8/Windows 7/2000/Vista/WinXP
Game Reviews
When I first heard the name, Witch Hunter Trainer I was certain that I had played this game before! Well, do not get this confused with the Harry Potter inspired Witch Trainer game. Although, I must admit that I feel the style of that game was clearly an inspiration for what has been done here. This is an NSFW lewd visual novel game that has a fun sense of humor and a great setting.
The Bad Old Days
The setting of the game is what grabbed my attention. It is set in the 18 hundreds, the days of Van Helsing and all kinds of monsters in the land. You play as a man called Sam and you along with Cupid are hanging out one day waiting for someone to arrive so that you can train her. Well, things take a weird turn as another girl ends up coming across you and you help her out and she will "help" you out in return if you know what I mean.
Witch Hunter Trainer has a very interesting setting and I liked it. The gothic horror type thing is not something I have come across a great deal in visual novels before and I liked the direction that the story went her. It has a great sense of humor and while you may have to go through a great deal of dialogue sometimes before you can do anything, it is witty and well written and the supernatural stuff I found very interesting.
Slaying Evil Creatures Never Looked So Good
Witch Hunter Trainer has an art style that I really do dig. They have not gone for the realistic-looking style of graphics and instead, they have made a game that has a rather comic book look to it. I mentioned Witch Trainer before and I feel that this game does have a similar look to that along with Princess Trainer. I liked the character models and there is a great selection of creepy, hot, and interesting looking characters that you will come across. There is a little bit of animation here and there and it works well and gives the scenes that you will be playing a bit more punch to the stuff that is going on.
The game has a decent enough music track that fits the tone of the game pretty well. It does not overuse moaning and groaning which is something I am happy about. However, if the game gets a bit more funding on Patreon I hope that they consider adding in some voice acting.
The World's Greatest Detective
The game is in many ways' kind of like a detective story. You will be spending most of your time reading text that moves the story along. You do get the opportunity every now and again to make some decisions that will shape the story. The game does this right from the start and if you play your cards right, you can get a little action very early on in the game. There is not a ton of actual gameplay, but the story and characters are strong enough that the game zooms by.
8.5
I was not 100 percent sure of what I was getting into with Witch Hunter Trainer, but right from the start, I found myself interesting in the game. The crazy thing is, the image on the title screen captured my attention right away so from the start this game had me interested. I liked the story, the XXX content was great and in all, this was a fun story and one that I highly recommend you check out.
Pros:
I liked the majority of the characters
The story lets you make decisions
The XXX content in the game is great without being too much
I liked how the story was good right from the start
The presentation of the game is fantastic
Cons:
Perhaps a bit of extra gameplay might have been even better
If the goth fantasy/horror setting is not your thing, you may struggle to get into this
Similar Games
Viewing games 1 to 8