Extra Life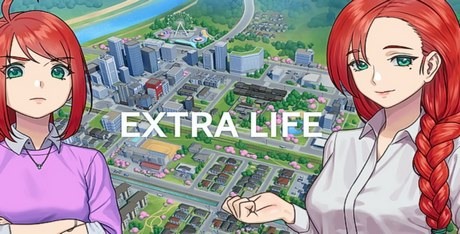 Download Extra Life and embark on a fantastical journey to save the world! Battle fierce monsters, solve challenging puzzles, and explore breathtaking environments. The power to heal the world lies within – play now!
While I did have a good time playing through Extra Life, I have to say that this is a good game that I feel could be great with just a few tweaks here and there. It is a sandbox style game and one that has some fantastic art and a pretty interesting premise as far as the story goes. I think that this is a game that is well worth checking out, especially if you have an appreciation for well-drawn lewd art.
Going Back To The Past… Kind Of
The story that Extra Life is telling is one that I think works great as a premise, but the execution does need a bit of work. The idea is that we have this feisty chick who has had a pretty hard life and had to deal with some real jerks and bad situations. Now, she finds herself in a younger body with the chance to try and make a better life for herself while getting revenge on those who treated her badly. The premise is great, it really is, but I think the story could have gone into more depth with things.
Clicking And Choosing
Have you ever played a lewd sandbox style of game before? Well, you will feel right at home with what Extra Life is offering. You will have to click on various areas around the town. Talk to different characters, complete tasks, and so on. There is a lot of clicking here and there is also a mini-game that involves more clicking in order to make money! It can become pretty tedious if I am being honest. The choices you get to make are a bit of a mixed bag too with some feeling like they really do matter and others that just seem like a huge waste of your time.
Style, Substance, And Sex!
One part of Extra Life that we can all agree is amazing is the art. This game has a very high-end animated look to it. Not just with the character renders, but the world they are in too, it is a very well-drawn game with a ton of polish. There could be more animation here if I am being super critical, but what is here is decent enough. In all, it is a fantastic looking game in pretty much every regard. So good in fact that I can honestly say that it was the visuals that really kept me wanting to play the game.
8
I would say that I would have to put Extra Life in the category of "good game" but the frustrating thing is that I think there is a lot of good here and with just a bit of work it could have been great. What is here is fun and those visuals are incredible. However, the story has such a great premise that I wish it was a bit better written and developed more. By all means give this game a try, heck the incredible lewd artwork alone makes it worth your time.
Pros:
The game has a very interesting premise for the story
It has some truly incredible visuals
I can appreciate how they tried to have a bit of variety with the gameplay
Overall, it is a pretty solid lewd game
Cons:
The story has a great premise, but the execution feels like it needs some work
As great as the game looks, I wish that there was a bit more animation
Download Extra Life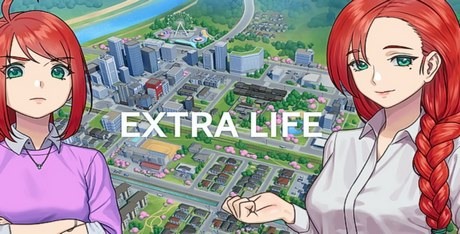 Minimal System Requirements:
OS: Windows 8
CPU: Intel Core2 Duo or better
RAM: 6 GB
Graphics: OpenGL 4.1 capable
DirectX: 10.0
HDD: 500 MB
System Requirements:
OS: Windows 8.1, 10 (64 bit)
CPU: 2.0 GHz 6 or 8 Core 64-bit
RAM: 6 GB
Graphics: 3 GB GDDR5 Dedicated GPU
DirectX: 10.0
HDD: 500 MB
Game Reviews
Extra Life is a visual story for adults about a guy's life in a small Japanese town, where the player will go on dates with attractive girls and explore the world. Elements of point-n-click and dating simulation bring interactivity and dynamics to the gameplay.
Transformation
The main character is an old man who woke up young one fine morning. His knowledge of life and memory are preserved. The body has changed, has become young. A hard life had worn the man down:
A bad job
A difficult family situation
Constant failures
Now that he's young, he can start his life with a clean slate. Let the world know who's in charge.
New acquaintances
The player will move through the beautiful Japanese city of Nyoto in search of beautiful girls. Visit a beautiful park, grocery store, post office, public places and home. You can try to have a relationship with the best beauties in the area. Several romances at once is a good idea isn't it? From the first minutes the player will get to know Noriko and Yasuka (if you really want, you can give the girls new names, such as your friends or classmates).
Animated sex scenes will give maximum pleasure to users. Various pleasures: sex after dinner with a modest girl, a passionate kiss in a public place, a life together with a pretty girl. The developers have called good artists to portray the love scenes qualitatively.
The player chooses from the answers provided. On the choice depends on further developments. Walking along the path of the plot, the protagonist may encounter several endings.
Interactivity in the game is as follows: search for items in the room and move around the city map. The system rewards attentiveness and unlocks erotic interactions. Uncensored images of young girls will be saved in a gallery.
8
Extra Life is a sexy game about a guy who's looking for naughty partners and has no trouble finding them. Cute drawings, a fantasy story, gifts and wonders, and most importantly, hot chicks await players in Extra Life. Recommended for BioAssHard fans.
Extra Life is an anime-style visual novel in which you have to help the main character to live his life anew.
Plot
The main character named Saito is very unhappy with his life. But one day he wakes up with the young body he had 30 years ago. He is healthy, strong, and eager to right all the wrongs of his youth. But his depraved nature overcomes his reason, and he begins to seduce all the girls indiscriminately again... He seduces Chaka, the younger sister of his best friend Minato, pestering his neighbor Noriko, arguing with classmate Akito. Maybe he was given a second chance for nothing.
Gameplay
The game is very short, with only 15 minutes of content so far, and there are a lot of bugs. But the developers from RNGeusEX are working on the sequel and fixing bugs, so we will probably see the second part soon. The authors promise to add mini-games and a lot of uncensored erotic scenes.
Pros:
Cool animation and backgrounds.
Several alternate endings
Fascinating storyline
Lots of humor
Cons:
No animations of the bed scenes
See Also
Viewing games 1 to 8