See You Yesterday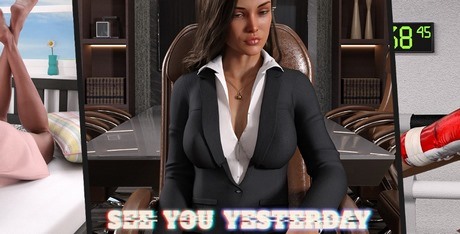 Download See You Yesterday if you want a lewd visual novel that has a more mature family story to sink your teeth into. With lots of interesting characters and sexy situations. You will love the story here just as much as you do all of the amazing XXX sex scenes.
a game by
Derezz
Platform:
PC
Editor Rating:

7.6

/

10

, based on

4

reviews,

3

reviews are shown
User Rating:

9.6

/

10

-

14

votes
Rate this game:
See also:
Eroge Games, Visual Novel
See You Yesterday is a visual novel with a high school atmosphere, family squabbles, thieves notions, and love triangles.
Plot
A young man enrolls in a prestigious college. But in college, the guy is immediately drawn into a murky story. His classmates Katie and Grace both try to get his attention. But you are indifferent to them... Then the girls go to the principal named Jennifer and complain about your behavior. Then she decides to talk to you alone, and find out why you rejected the offer of such beautiful girls.
Gameplay
You're treated to classic gameplay for an erotic novel, where in addition to the main storyline, you need to find out your father's secret. After all, your main ambition was to escape from a family where there was a constantly tense atmosphere. The father is clearly hiding some kind of secret, and perhaps a threat is looming over all members of the family. In an alternate playthrough, you get the chance to join a thief's gang.
Pros:
Realistic 3D characters
Contemporary atmosphere
Lots of animation
Sexy girls
Fascinating plot with a family mystery
Cons:
Occasionally technical glitches, such as the spontaneous language change function without the ability to change it back
Download See You Yesterday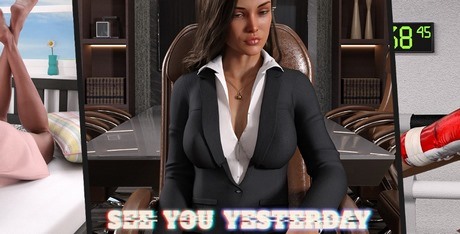 System requirements:
PC compatible
Operating systems: Windows 10/Windows 8/Windows 7/2000/Vista/WinXP
Game Reviews
With an interesting, kind of sci-fi vibe to the story See You Yesterday is a lewd game that I have been interested in for a while. The game has been in development for a while now and as far as I know, it is not yet complete which explains why my experience with the game come to a crashing halt. Still, despite a few issues with the game, I found myself enjoying what I was experiencing here and if they do another update, I will certainly be back to see how the game progresses.
Welcome To The Multiverse
Ok, the first thing that has to be said about See You Yesterday is that the translation is not the best. There are moments that make very little sense, but on the whole, you can muddle your way through things and figure out what is going on. The plot of the game features this rather intelligent young man that we play as who gets accepted to a very prestigious school and he decides to leave his family and see where this takes him. The only thing is that this family has some secrets, secrets that could really throw a wrench in the works. I do not want to spoil anything, but there is a parallel dimension type thing going on with the story that I found pretty damn cool!
Paying The Rent On Time!
The landlady in this game is so hot! Seriously, See You Yesterday has the hottest looking landlady I have ever seen! Actually, the whole game features some fantastic looking character renders. Sometimes I find that lewd games can have one or two characters that just do not click with me at all and have weird looking faces. I never really came across any characters in the game that I did not like. The lewd content that is here is great, but I just wish there was more of it. It can take a while for the lewd content to happen so it does make you work for it. However, I just feel that with these renders being as good as they are, there could have been more.
All We Need Is Changes!
As far as playing See You Yesterday goes, it is a bit of a mixed bag if I am being honest with you guys. I would say that the game is a sandbox style of lewd game, but it feels more like a lewd visual novel. The reason that I say this is that the game is quite linear and always seems to keep you on a very direct path. I found it quite easy to get around the game and it made me wonder what was the point? Perhaps they would have been better off just making this a straight up lewd visual novel, but make there be more choices? It is not bad at all, but it is one of the simpler lewd sandbox games I have played. Still, I would take this over something way too cryptic any day!
8
I have to say that I did enjoy my time with See You Yesterday and I feel that if it were finished when I played it, I probably would have scored it half a point higher. What is here feels good and while it may be a bit on the linear side and the translation is not the best. There is still far more to like than dislike in this game and I got a real kick out of the sci-fi kind of twist that the story had. Plus, the character renders all being so easy on the eyes did not hurt either.
Pros:
I liked how there was a bit of a sci-fi twist to the story
The character renders are spectacular!
The lewd content that I saw was very well done
It was good how it was easy to know what you had to do
Cons:
The translation can make the story hard to follow in some places
I wish that the game was finished at the time I played it
The world of Adult Games on the internet is a vast and very varied one. There's literally something for everybody, and since it is a pretty fan-made community, it means it is full of small developers. Derezz is one of those developers, working with a Patreon to be able to deliver some hot games and See You Yesterday is one of those games. But being such a fan-oriented game community you'll find that these games can be pretty small, and oriented at a specific audience each. So, to help you find out if See You Yesterday is the game you are looking for, we'll talk about it here and tell you what we think of it. So, let's get started!
About the game
So, let's start with what this game is all about. According to the developer, we are quoting the Patreon synopsis "A young man, accepted to one of the best high schools in the world, will have to leave his family to fulfill his dreams. While he tries to get used to his new environment, his family's secrets won't let him go and life will hit him a blow so hard as he never expected."
So, as you can see, it's a pretty average story for a game like this. A young person gets accepted into a prestigious school, has to leave home behind, and starts a whole new life there.
Now, what about the gameplay itself? Well, there isn't much to talk about here because, well, this game doesn't have much gameplay to talk about. But that's no surprise, It is quite common to find the same gameplay mechanics in other similar games. Where it's pretty much a visual novel where you are presented with situations and choose how to act. There aren't many choices to make, but then again, it would not be realistic if there were. The main problem with the gameplay of this game is that it isn't really interactive. You can skip most texts or just read them if you want to know more about the story.
Will you like this game?
Well, as we mentioned there isn't like way too much innovation in this game. But the good thing with this is that you can actually compare it clearly with a lot of other games. So, you'll probably like this game if you enjoyed titles like Bloody Passion, Cure my Addiction, and College Kings 2 - Act I. All of these games have pre-rendered visuals and aim for hyperrealism.
This game is also pretty short. In fact, it only took us about an hour to finish the whole thing, which we found pretty disappointing. But the art style is pretty interesting, and the game itself is pretty lighthearted.
Review: 6.5/10
As it stands right now, See You Yesterday needs some work, but it IS a work in progress, as the developer keeps on expanding and updating the game, and that's a great thing! It listens to the community and adds what the public asks for in the game, expanding the game experience and making it hotter and hotter.
6.5
So, the visuals are great, the gameplay lacks emotion, and it could be a little more interactive, but there are plenty of great sex scenes. So, overall, See You Yesterday is a decent game to play if you want a simple porn game, and its development is promising.
Pros:
Cons:
Not too much interaction
Needs more options
Similar Games
Viewing games 1 to 8