Duchess of Blanca Sirena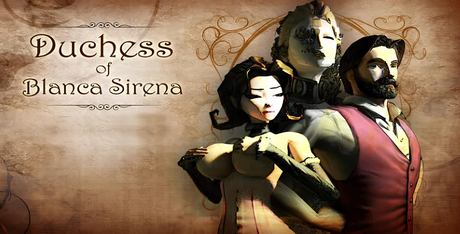 Click the "Install Game" button to initiate the free file download and get compact download launcher. Locate the executable file in your local folder and begin the launcher to install your desired game.
Duchess of Blanca Sirena is a two-year-old untraditional experience. The game is not the typical story or quest-based experience. It attempts to offer a unique, and more adult, experience to consumers. Players get to interact with and navigate a steampunk world in this simple title. The way the interact with it is what is so interesting about this game. Almost akin to watching an interactive movie, the product takes players through the story first and foremost, allowing them to engage with the world and progress their journey. For this reason, the Duchess of Blanca Sirena is a game to watch for.
Duchess of Blanca Sirena Overview
The game takes place in a steampunk society. It is not a traditional game, and instead is like a story game and a movie meshed together. The player gets to interact with the game world and make decisions about how to move forward. Duchess of Sirena was developed with Unity, an indie game development platform that have given way to some great games that players have enjoyed for a very long time.
The Duchess of Blanca Sirena is thus built with a simpler service, though that does not at all mean that it is bad; on the contrary, the game is produced alongside many other titles which have become huge hits in the gaming community.
Gaming Deep Dive
Duchess of Blanca Sirena is an interesting experience, though it definitely isn't for everyone. It is not a fast-paced game and as such requires more attention. Players need to be focused and invested in the title in order for there to be any real connection. In addition, as mentioned above, it is more adult, which means it can't be enjoyed by a younger audience of players. In the end, the games pros and cons are obvious.
Pros
Good story pace
Simple
Good concept
Unity developed
Cons
Unclear replay value
Focus required
Less relaxing
Slow gameplay experience
There will be plenty of people that will enjoy the game that Duchess of Blanca Sirena was created to be. It is unapologetic about its gameplay and possibilities, and spends its time trying to deliver where it counts. And it brings a sort of L.A. Noire experience to a simpler service, allowing more players to enjoy the things that are less focused on larger titles at the current moment; story and progression.
Rating
At the end of the day, I give Duchess of Blanca Sirena 7/10 stars. It is an okay game to try when it is available, and some people will really like it. But the limited pacing and lack of more intense sequences can make it hard to get into. That, coupled with the fact that it has some adult content simply means that it isn't for everyone. It is for those who are looking for a more focused gameplay experience that provokes thought.
7
It's for those looking for an intriguing game that requires some investment, Duchess of Blanca Sirena is the right title to choose.
Download Duchess of Blanca Sirena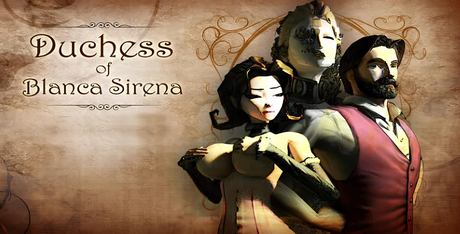 Minimal System Requirements:
CPU: INTEL 2 GHz Dual Core
VRAM: 256 MB
RAM: 1 GB
OS: Windows XP, Vista, 7
DirectX: 9.0c
HDD: 7 GB
System Requirements:
CPU: INTEL Core 2 Duo 2.66 GHz
VRAM: 512 MB
RAM: 2 GB
OS: Windows 8, 8.1, 10
Direct X: 9.0c
HDD: 7 GB
Game Reviews
Man, it really does suck that we only got two episodes of Duchess of Blanca Sirena! This game as I write this is abandoned and it does not look like they have any intention to make a third episode to bring the story to a close. However, I still think that this is a lewd game that is worth checking out as it is something that really did click with me. I would love for the developer to come back to this someday and try to finish it off or even use what they did here and create something new instead.
Elizabeth, Is That You?
Let me say that one of my favorite video games of all time is Bioshock Infinite and the maid character in Duchess of Blanca Sirena looks just like her! That is something I got a massive kick out of and that is really what kept me playing this all the way through. The whole game has a steampunk and Bioshock Infinite kind of vibe about it. So much so that there is no way that this is some kind of coincidence. If you have a love for that game and the character of Elizabeth, that is enough of a reason to try this out!
Ok, But What About The Story?
I feel that somewhere in Duchess of Blanca Sirena there is a great story just begging to be let out. We have a kind of slave and master thing going on with our maid, but there is a real mystery at foot here. We have a strange doctor that shows up and leaves some pretty unique questions. Granted, as this game is abandoned, we will never know how this all plays out. However, I must say that at the very least I was intrigued by what was going on in this game.
An Interactive Movie!
If you are expecting a ton of deep gameplay here in Duchess of Blanca Sirena, you are probably going to be disappointed. What we have here is a bit of a lewd visual novel and point and click adventure game hybrid kind of thing going on. There is not much that you have to do. You just click around the screen as the story unfolds and then decide the speed at which you want the lewd scenes to happen and then of course, when you want to "finish" in the lewd scenes.
Are You Sure You Are Not Elizabeth?
I would say that for ¾ of this game, they nailed the presentation. Duchess of Blanca Sirena has some of the most impressive looking animations that I have ever seen in a lewd game and the whole game has a very high end console game look about it. The main character looks good, but his penis is way too big! This is a problem as you can sometimes see it clipping out of our Elizabeth looking babe. She by the way is the stat of this whole experience, probably one of my favorite characters in a lewd game. It looks great, moves great, but there is just too much clipping going on. A bit more time in development, probably could have fixed this! Oh yeah, the game is also voice acted too and it sounds very professionally done!
7.5
It is beyond frustrating that the developer never managed to finish Duchess of Blanca Sirena. I think that the potential here was sky high and what we do have is a solid experience. As I have said, the fact that the game has a character that looks like Elizabeth from BioShock is more than enough to keep me entertained. However, the steampunk style setting and story, along with the mystery it sets up were fun too.
Pros:
The main chick looks like Elizabeth from Bioshock!
I thought the story showed a lot of promise
The animations are incredible
I liked the overall look of the game
Cons:
There is a lot of clipping here
The game is abandoned so we will never know how it all ends!
See Also
Viewing games 1 to 8