Ladykiller in a Bind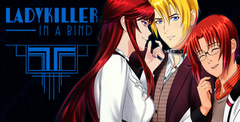 Download Ladykiller in a Bind and navigate a world of seduction, deception, and steamy encounters! Make choices that impact the story, and untangle the web of intrigue in this provocative visual novel. Ready for a sultry adventure? Play now!
Get ready for Ladykiller in a Bind, otherwise known as "My Twin Brother Made Me Crossdress as Him and Now I Have to Deal with a Geeky Stalker and a Domme Beauty Who Want Me in a Bind!!" Yes, I know what you're thinking but hear me out, this is actually a pretty good game. The story is solid and well-written, the humor is some of the best I've seen in a comedy romance game and the art style works perfectly well for the story it is telling. Is this a revolutionary game that will change your opinions on romance titles? Maybe, you'll only know if you give it a go. Let's take a look.
Gameplay and Story
Awh yiss, this is a visual novel. Some of the best written stories I've ever encountered have been through visual novels and, although this is not exactly groundbreaking, it is a well-executed and carefully crafted game.
You take control of an 18-year old woman, who is manipulated by her twin brother to impersonate him to win a popularity contest. Follow as a whole heap of lesbian sex occurs shortly after. This game likes to take a dip into that all too spicy but tempting swimming pool of BDSM. That being said, if you don't want to see any of that hot goodness, you can skip the scenes or toggle the pictures so everyone is wearing Christmas sweaters instead. Something I found pretty damn funny.
There are two main storylines that you can follow, but that doesn't mean you can't make out with whoever else you can get your little hands on. Most of the game is just pointing, clicking and reading. This is something that can only be carried by the writing, and this game is certainly well-written enough to keep you engaged. It's a bit like Clannad, Dream Daddy: A Dad Dating Simulator or If My Heart Had Wings.
Art Style
The art style of this game is pretty good, I wont lie. A lot of the scenes are elegant, organic, and sometimes romantic. The art direction, character designs and backgrounds are all done to a professional level. The uniqueness of each of the incredible cast of characters is absolutely brilliant. At no point do you get mixed up because people look the same, and that's even done in a game where some of the people are designed to look the same. It's well done. I don't think you'll be disappointed by it.
The Message
Something I did find particularly interesting about the game is that it was clearly not designed for a primarily straight male audience. Members of the LGBTQ+ community deserve to have a little rep both in games and in who games are for. This title manages to do that very well, and doesn't make lesbianism a gimmick to sell copies to randy teenagers, and instead makes something subtly tasteful.
9
This is a solid romance game with a lot of humor. If you like a game that has lesbian BDSM stuff in it, this is, without a doubt, your bag.
Pros
Great visuals
Excellent writing
Tasteful representation
Cons
Would have been nice to have some extra explicit options
Download Ladykiller in a Bind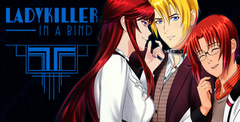 System requirements:
PC compatible
Operating systems: Windows 10/Windows 8/Windows 7/2000/Vista/WinXP
See Also
Viewing games 1 to 8