Zombies Retreat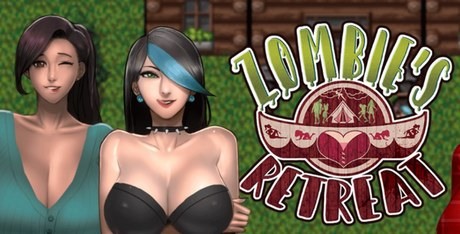 Click the "Install Game" button to initiate the free file download and get compact download launcher. Locate the executable file in your local folder and begin the launcher to install your desired game.
Oh, my goodness. Get ready for Zombies Retreat, the game that asks the real questions of a zombie outbreak. When you're stuck in the post apocalypse with a bunch of outrageously busty women; who are you going to seduce first? Jump into the mammary madness and maybe fight zombies too, I guess, I don't know; The boobs are fantastically distracting. Prep yourself and let's get into it.
Gameplay
The gameplay of this title is closely reminiscent of Pokémon with the faster paced action of Hotline Miami. I truly enjoyed the fact the game didn't stick you in long, drawn out turn based combat that serves little purpose beyond slowing you down. Your objectives in the game are simple: discover what is going on and explore the world and its sexy survivors.
Art Style
Good lord, have mercy on my soul and wiener, I can't take much more of this game. I'm going to lay it out for you; this game is sexy as hell. Yeah, sure, the player character looks like the one twink to rule them all but the ladies in this title are fine as a sweet summer wine. Critically speaking, the boobalicious babes here do seem to have an unreasonable amount of mammary matter, but the artist has paid careful attention to make them seem like they have a realistic weight to them. They look plausible and soft and you really can't ask for more.
The character designs are unique and different and very pretty to look at. The women are gorgeous and it goes a long way to getting you jazzed to discover more survivors. Clean and neat in both the feature pictures AND the gameplay itself, which styles itself on the classic top downs like Corpse Party. Its easy to see what the game is showing you; action is easy to follow and the colour scheme is delightful to match the high-definition world.
Plot
I have played a fair few porn games to write competent reviews on this site and I must be absolutely honest when I say that this game has a shocking amount of plot to it that works really quite well. Is there a lot of pumping that's not with shotguns? Yes, of course there is but let's not pretend that the second a zombie apocalypse happens do the survivors suddenly become celibate. The plot centres around some dark science stuff that lends an interesting plausibility to the story.
You spend a significant amount of time wandering around and the story comes pretty naturally to the setting. I'm trying not to spoil it so just take my word when I say that it was shockingly interesting and you'll love it.
9
This game is pretty dang good. I had a lot of fun with it and I'm positive that, if you're after something a bit sexy and interesting, then you'll love it too.
Pros:
Incredible character art
Excellent story
Diverse characters
Cons:
Could have had a longer, multiphase story
A larger world might have been nice
More fluid sexual scenarios would have been cool
Download Zombies Retreat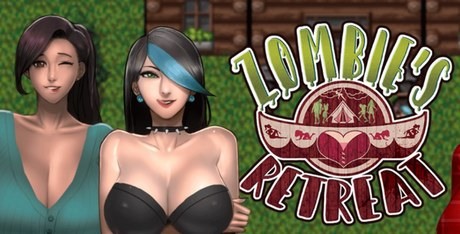 System requirements:
PC compatible
Operating systems: Windows 10/Windows 8/Windows 7/2000/Vista/WinXP
Game Reviews
I love all things Zombies and Zombies Retreat is mixing a horror zombie story with some awesome lewdness all wrapped up in an action RPG. While many people come to games like this for the lewdness if you know what I am saying, I think that the fast-paced, action gameplay may be what keeps people playing this all the way until the end.
Welcome To Camp Zomi
The story of the game is pretty decent. In Zombies Retreat you play as a guy who is trying to get away from it all by having out at Camp Zomi which is deep in the Zomi Woods. With Zomi being so prevalent, you would think that he would know this is not the place to be expecting a relaxing camping trip. Well, all hell breaks loose, the dead rise and he ends up trying to save himself and a bunch of hotties from being eaten. The story has a pretty good twist and the main villain is pretty sexy and also pretty badass too.
More Action Than RPG
While this is being classed as an RPG, I felt the game was way more action-focused than I initially thought it would be. It does have that RPG Maker vibe going on with the game design. You move around the camp and the woods, talking to people, getting items, solving puzzles, and so on. What I really liked about the game was that you just blow away the zombies you come across in real time. There are no turn-based battles in this game, you see a zombie, you can kill it. The game moves at a pretty fast pace and I found it to be a lot of fun. There is a lot of sex in Zombies Retreat and it is done pretty well. I mean, if you are saving all these chicks the least, they can do is help you relive a little tension. The game lets you "go faster" during the sex scenes, but that is all the control it gives you.
Who Wouldn't Want To Save These Chicks?
When you have seen one game that is made with RPG Maker, it is fair to say that there is very little that will surprise you and that is the case with the visuals here. While it does have that RPG Maker look to it, I still really like what they have done here. The sprites have a lot of personality to them and there are little things that I got a real kick out of. For example, early on you are at the pool and this chick is paddling and you can see her little pixel butt bobbing in the water. The portrait and XXX stuff in the game are very well done. It is all uncensored so I give Zombies Retreat a high-five for that. These have a bit of animation to them as well and the girls are certainly hot enough that it makes you want to save them and of course, bang them once you have saved them.
8
I had a blast playing through this. I would not say that it is the kind of game that you would play through time and time again. However, I will say that for a one and done kind of experience, Zombies Retreat is great. I liked how the game was action-focused and going around blowing away zombies, banging chicks, and finding the right items was something that clicked with me big time. If we ever do have to deal with a zombie apocalypse, I would not be against it being just like this!
Pros:
The story is a great zombie-filled story
I liked the Camp Zomi location the game was set in
Lots of hot girls to save…. And do!
The game has a lot of personality
It was fun going around shooting zombies!
Cons:
I am not sure I would play through this again
At the end of the day, it is another RPG Maker lewd game
Similar Games
Viewing games 1 to 8