NBA Jam '99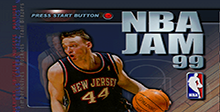 a game by Iguana
Platform:

Nintendo 64
See also: Basketball Games, NBA Games
Yet another basketball game! They keep coming thick and fast, don't they!
Here's a little list for you. NBA Courtside. NBA Hangtime. NBA Pro '98. NBA Live '99. Now, here's NBA Jam '99. Deepest joy resonates throughout the land as this cart is slipped into place, the N64's power switch is slid upwards and crowds gather around the screen as it warms up. What has it got in store for us? Our thumbs are twitching, sweat breaks out on our foreheads... our verdict? It's the same as usual. The same! The same! The same! Ahahahahaha, they're coming for us, hahahah!
Beyond A Joke?
Let us recap the finer details of basketball, in case you've been locked in solitary confinement for the past couple of years with nothing but an imaginary friend and a stained bed pan for company. Get ball. Run with ball. Put ball through hoop. Got it? Good! So then, where does this one break the mould and come storming home?
Thankfully, NBA Jam is incredibly sharp and the players are not only clearly distinguishable but are animated to such an extent we could clearly tell who was who by their facial animation. Now, that is smart! The players' movement doesn't reflect their pretty little bodies though, because it is slightly treacly. Despite moving in all the right places, they just don't do it quickly enough, which tends to detract any urgency to getting hold of that ball.
All the in-game menus are extremely accessible and avoid getting bogged down with pointless stats and multiple sub-menus. You simply access what you want, highlight it, then move on. Lo and behold, there's a quickstart option too. Praise Jordan!
Bouncy Bolls
The actual physics of the basketball are wonderful. Unlike some games where simply being in the scoring zones ensures the ball goes in, if you are even slightly off-target that baby will certainly punish you for your inaccuracy. Throw it too hard and it will react exactly as you would expect, bouncing all over the place and probably into the opposition's possession - which isn't a good thing. Their AI makes sure that if you do manage a basket it is well deserved, as they have a tendency to mark your men like flies around... well, you know. The system for communication between your own team is well designed, so learning to use the court and position your guys soon becomes second nature. Simply press the R button to call to one of your men, then pass to him.
As far as being an original entry into the basketball market goes, NBA Jam '99 is about as original as a packet of ready salted crisps. It neither outshines its rivals, nor is overshadowed by their quality. NBA Jam '99 is merely another entry that just happens to be slightly better than most of the other recent releases. It Is both well designed and well constructed though, so for a first time basketball game buyer, it might be worth a look.
2nd rating opinion
With so many basketball games on the scene it's difficult to get excited over another one. However, this one plays very well, looks nice and has some realistic action. If you're into basketball then you can't go far wrong. And if you're not... It's still worth a look!
Similar Games
Viewing games 1 to 4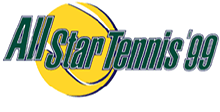 All Star Tennis '99
All the power, speed and intensity of professional tennis! Compete against professional tennis' top talent: Michael Chang, Mark Philippoussis, Amanda Coetzer, Richard Krajicek, Conchita Martinez, Jonas Bjorkman, Gustavo Kuerten and '98 Wimbledon Champion Jana Novotna. Realistic courts and characters bring tennis to life. Smash overhead shots, crush 140mph serves and dive for cross-court volleys. Up to four players can go head-to-head simultaneously! Multiplayer options in singles, doubles and tournament play!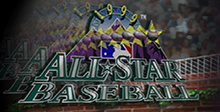 All-Star Baseball 99
With All-Star Baseball '99, development house Iguana (Turok, NFL Quarterback Club '98) extends its sterling rep for putting great graphics on the N64. The high-resolution visual feast includes multiple player shadows during night games, digitized photos of most players and extremely detailed texture maps -- just check out the ivy and row houses at Wrigley! In stadiums with Jumbotrons, the action on the big screen replicates that on the field. The athletes are fully articulated, with nice use of shading that gives them a fully rounded look. Batters are graded on multiple characteristics, including whether they are pull, straightaway or opposite-field (push) hitters. Iguana has stacked the lineup with signature stances for everyone from Roberto Alomar to Sammy Sosa.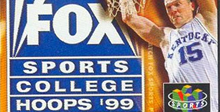 Fox Sports College Hoops '99
Complete college basketball license featuring over 120 college teams. NCAA Tournament, NCAA Sweet 16 and Final Four. Pre-season and Conference tournaments. In-depth player attributes and skill ratings. Three difficulty levels, easy to learn controls, and multiple camera angles. Authentic college basketball look and feel with real logos, uniforms and home courts, and real college offensive and defensive plays.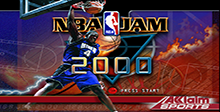 NBA Jam 2000
All-new 2-on-2 JAM mode featuring 50 dunks and awesome special effects! Custom 2-on-2 JAM mode courts, including street court. Authentic 5-on-5 simulation mode with actual team play styles like the Jazz Pick-and-Roll. Jaw-dropping ultra high-rez graphics! Unique signature moves like the crossover dribble. Create your own JAM player. All 29 teams and over 300 NBA superstars! Over 800 all-new motion captured moves by the "X-Man" Xavier McDaniel!
NBA Jam '99 Downloads

NBA Jam '99 download
Hoop Dreams
Due for release In the States In a matter of days, the first serious challenger to Kobe Bryant's crown as the N64's basketball king is Acclaim's impressive looking NBA Jam 99.
Unsurprisingly it's a huge advance in terms of presentation from Nintendo's playable-but-bare game. The players warm up and take practice shots while the announcers set the scene and introduce the teams, there is a greater variety of special moves and dunk animations, and the action is depicted with slinky hi-res graphics throughout. The sound extends beyond the usual squeak of plimsoll on varnish, helped by a chatty commentary team who might well be the John Motson and Big Ron of the American sports scene. Except we're fairly sure that Motty has never used the expression "rim rattling" in his professional career. Even the crowd get in on the action, taunting the opposition and counting down the last few seconds of every quarter.
Cameplay is much less arcadey than NBA Courtside - it's fast and furious, but there are more controls and options to consider. Every button on the controller has a different function depending on whether you're attacking or defending, and extra tactical functions can be called up by double-tapping the С-buttons. A skills mode is included as a bonus game, where you can pick your favourite player and compete against your friends to see who can land the most free throws or three-pointers in one minute.
NBA Jam 99 isn't quite as easy to learn as Courtside, but we'd wager that any basketball fanatics out there will relish the challenge. It'll be up against some fierce competition though, in the form of NBA Live 99 and Fox Sports College Hoops.