WWF Attitude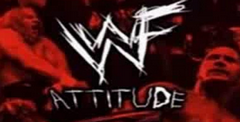 a game by Iguana
Platforms: PSX

Nintendo 64
See also: WWF Games
Overview
Last year, Acclaim burst on the scene with the entertaining WWF War Zone. War Zone was a decent playing game with what has to be considered a revolutionary create-a-wrestler system. Gamers had never been given the freedom to customize a character like they were given in Warzone. This year Acclaim is looking to build on the success of the original with their last WWF game ever, WWF Attitude.
Attitude has upped the ante in almost every way over the original game. Highlights include 40 real wrestlers with their real life ring entrances and theme songs, 20 different game modes, create your own pay-per-view event, a new career mode, custom moves, and, back bigger and badder than ever, the create-a-player option. The only thing that is missing now is the scripted outcomes of the matches!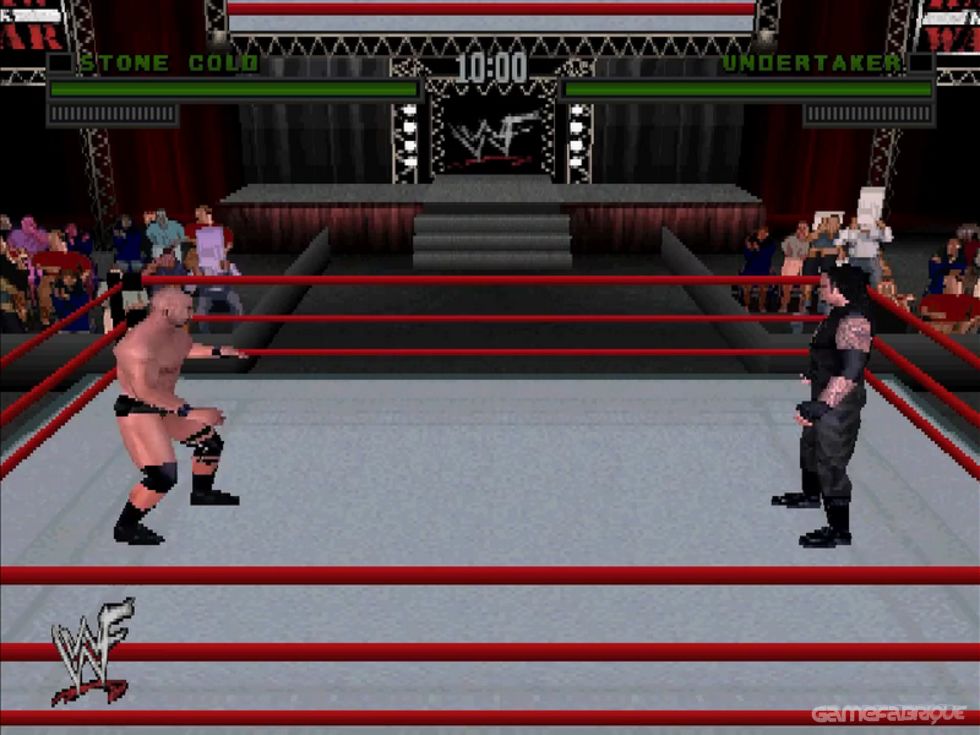 Gameplay
If you have never read any of my reviews on wrestling games, let me fill you in on my attitude towards professional wrestling. I think it is a complete joke and it is not a sport in my eyes. Real sports do not have predetermined outcomes so this rules out professional wrestling as a sport. I also do not understand why or how people can actually get so wrapped up in it. It is basically a soap opera with sweaty men instead of bitchy women. Now this does not mean that I don't enjoy playing the games, I just take them for what they are -- entertainment, not sports.
Now that you know my stance on professional wrestling, lets talk about the entertainment game of WWF Attitude. If you are a fan of games packed with options, play modes, and customizability, this game is for you. You can play a career, tag team career, VS match, tag team, tornado, 1 on 2, 1 on 3, lumberjack, gauntlet, tag gauntlet, survivor series, royal rumble, battle royal, war, stable match, triple threat, triangle, and a bunch of co-op modes. You can play this game for two days before you will have a chance to play every possible game mode. As with most games, you will find a couple of modes that you prefer to play and stick with them. My personal favorite is the career mode, which allows you to fight your way to the top of the ratings. Trust me though, you will find one type of game that will fit your personal play style.
Attitude is all about customizing your experience. One of the new customization additions the ability to create your own pay-per-view event. I was not expecting this to be much but it was actually pretty comprehensive and the level of customization you are allowed is downright amazing. First off, you get a chance to name the big event so you can create the next "Rumble on the Beach at my House" event or whatever creative name you can come up with. Then you can choose the number of matches that will take place during the event and the wrestlers who will make up the matches. So far everything is pretty standard stuff, right? Well, next you have the chance to set up the stadium for your event. You can choose the stadium, the lights, the color of the stage entrance area, banners, curtain colors, mat color, corner post color, banners to hang on the stage, banners to hang on the entrance way and banners to hang on the scaffolding. How is that for setting things up your way? You may just end up spending more time creating an event than you do wrestling.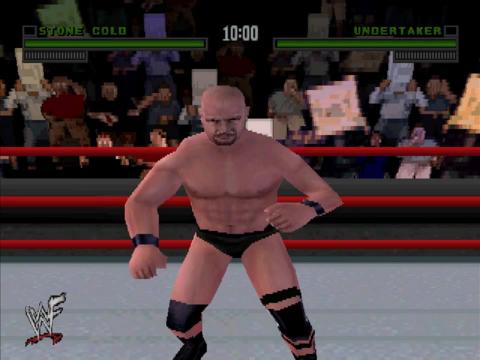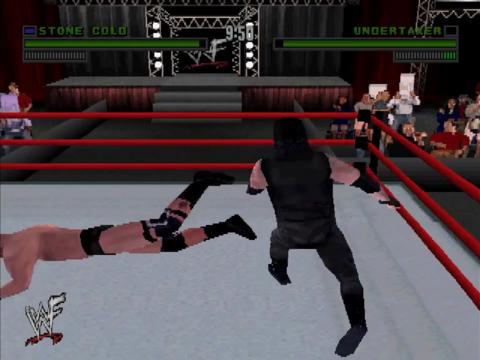 The customizing does not stop here. Everyone who played Warzone knows about the awesome create-a-wrestler system that it had. Well, it is back again and this time with more options than ever. Like I mentioned, I feel that this option was revolutionary in Warzone so even though there are more options available to customize in Attitude, I think the newness factor is not as great because I have already done it before. Now that does not mean that it is any less spectacular because the number of customizing options available almost makes me dizzy. It will not be unheard of to spend at least an hour creating that perfect wrestler. I am not going to spend the time going over all of the different options that you can customize but trust me when I say that there are more than enough.
So now you know that you can set the game up and your wrestlers up in a ton of different ways but we have yet to address the most important thing -- how does it play? The answer is that it plays just like Warzone. There appears to have been little enhancement to the actual game engine and that most of the time was spent on expanding the game modes. Fortunately this is not a terrible thing considering that I liked the gameplay in Warzone. If you did not like it, you might as well not bother because this game plays pretty similarly. For those that have not played Warzone, the gameplay is actually quite simple. There are single buttons that perform most of the actions and there are short combinations that pull off more complex moves. Most of the move can be executed in four button presses or less. I am not a big fan of games that require lots of button presses and intricate combo systems so I prefer the more simplistic style of Attitude. I know that some of the other wrestling games out there use a grapple system that is quite a bit different from this so it may take a little time to get used to for some gamers.
I do have a couple of minor complaints when it comes to the gameplay though. First off, it feels a little slow and sluggish. This seems to be a common problem with wrestling games. I don't know what it is that causes this but it seems to always happen. While it is not terrible, it is noticeable. The other thing that bothered me about it is the lack of precision on the collision detection. There were times when an opponent would kick and clearly miss me but I would still get hit. To me, this took away a bit of the credibility of the game because if I would get hit from a blow that clearly did not hit me, it made me wonder what else was skewed that was not as obvious. Then again, this could be intentional on the part of Acclaim because we all know wrestling is fake and they don't really hit each other anyway. Come to think of it, they did a great job of replicating a true WWF match.
Graphics & Audio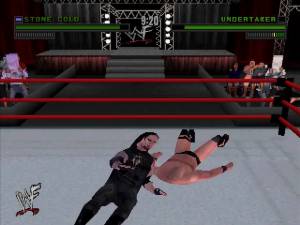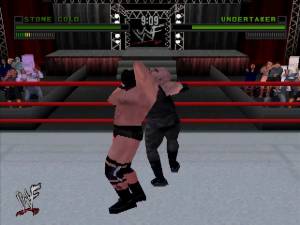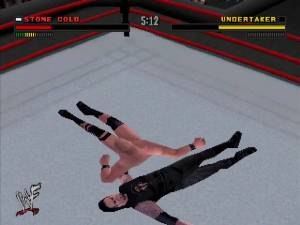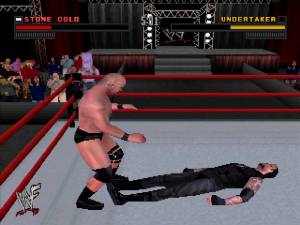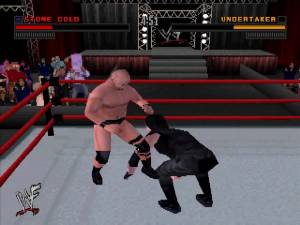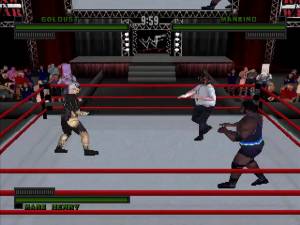 The graphics in this game really shine. The detail that goes into making up the wrestlers is really incredible. They tried to add the crowd in but it just ended up looking distorted and ugly; however, I give them credit for trying. Speaking of the crowd, they did a great job of throwing in audio clips from the crowd. There are plenty of cheers for the crowd favorites and heckling coming from the crowd. All in all, you will feel like you are at a wrestling match (I would assume).
Bottom Line
This is a fun game that is made better by all of the freedom you are given to create wrestlers and matches to fit your style. The actual gameplay is not that much different from last year so I can't say that it is a must buy if you already own Warzone but if you don't, this is a solid purchase.
Similar Games
Viewing games 1 to 4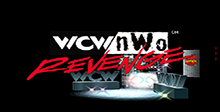 WCW/nWo Revenge
More than 60 wrestlers, including ALL of the top WCW and NWO superstars! Awesome new features including wrestler entrances, all the real WCW belts, hidden weapons, instant replay, completely updated roster and complete user stats and arcade style scores! Enjoy real pay-per-view arenas, 40-man Battle Royale mode, and a costume editing feature!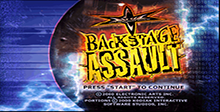 WCW Backstage Assault
No-Holds-Barred Brawling! Over 50 WCW superstars, including the women of the WCW! 14 playable Backstage Areas, including the new Semi-Trailer Area. Destroy your enemy faster with power-ups! New - First Blood Mode and Torch matches! Use your environment as a weapon!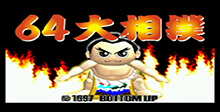 64 Oozumou
64 Oozumou is a Wrestling game, developed and published by Bottom Up, which was released in Japan in 1997.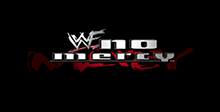 WWF No Mercy
Jump into the ring with the biggest, baddest jambronis around and experience brutal WWF action never before seen in a console game! Over 65 WWF superstars, all-new Ladder matches, and all-new Double-Team moves, like the Dudley 3D Deathdrop! Take on the entire Federation in Survival Mode. Take the action out of the ring in 10 different backstage areas!