BoneTown The Second Coming Edition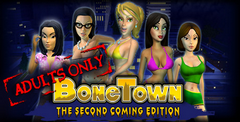 Click the "Install Game" button to initiate the free file download and get compact download launcher. Locate the executable file in your local folder and begin the launcher to install your desired game.
The original was released a very long time ago and now we have BoneTown The Second Coming Edition! This is a very lewd and crude kind of game that drew headlines back in the day for how crazy and over the top it was. I am not saying that this is an amazing game, far from it actually. However, I found myself playing this far longer than I thought I would and laughing and getting frustrated in pretty equal amounts.
It All Goes Down In BoneTown!
The story in BoneTown The Second Coming Edition is all over the freaking place. I played the game for quite a few hours and I am still not 100 percent sure what the point of it all is. Basically, you are living in a place that is all about all levels of debauchery. From sex on the sidewalk, rampant drug use and wars, and gang violence happening at the drop of a hat. You are trying to get by and take your piece of the pie that this place is offering.
The whole game could not be any cruder, it is like a game that was made by a bunch of 15-year old's who had just spent the weekend binge-watching, South Park. Hey, I love lewd, crude, and rude as much as the next guy and I do think there are many aspects to this game that made me laugh.
That PlayStation 2 Shine
One of the things that the developers of BoneTown The Second Coming Edition! Have said that they worked on a great deal was the visuals. The game is certainly a lot brighter than the original, but it still has a kind of PlayStation 2 era thing going on. The game actually reminds me of a kind of halfway point between Grand Theft Auto III and Leisure Suit Larry (the 3D one for the PS2) and I do not mean that in a necessarily bad way.
The game could not be any more filled with sex and there is pretty much every kind of sex you could want in the game. The thing is, the sex here to me is done more for laughs and shock value than it is to get you off. There is nothing wrong with that and at least there is a great deal of variety. Some of the voice acting is hilarious and the quality is not bad at all, from what I understand they did add quite a bit of voice acting to this game.
Too Many Bros Not Enough Hos!
The gameplay of BoneTown The Second Coming Edition! Is that of your typical 3D open-word style game. You will have to partake in various missions to move things along, but the majority of what you are going to be engaging in here is combat. Combat is the main thing that the gameplay has going on and it is a bit of a mixed bag. You get some very funny weapons that you can use and things are cartoon style violent which I really do like.
The thing is the gameplay is so unbalanced. The enemies can come out of nowhere and people want to attack you for what feels like nothing a great deal of the time. The enemies can swarm you as well and the number of hits they take to die can lead to a great deal of frustration.
8
I have to say that I did have fun with BoneTown The Second Coming Edition! I just ate up the whole absurdness of the game and found it to be fun. The thing is, I say that, but deep down I know this is not a great game. It feels like a game that was made about a decade ago, it looks like a PlayStation 2 game and the combat is horribly unbalanced. However, the fact that it is so unashamedly rude, crude, and lewd made me smile quite a lot while I was playing it.
Pros:
The place this game is set is hilarious
It is so crude that I liked it
There are tons of sex acts in this game
It is a rather interesting game in the history of lewd games
Cons:
This game has some very unbalanced combat
It does feel a tad immature, but I have to be honest and say that is part of what won me over!
Download BoneTown The Second Coming Edition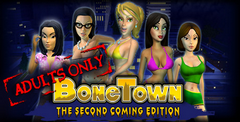 System requirements:
PC compatible
Operating systems: Windows 10/Windows 8/Windows 7/2000/Vista/WinXP
Similar Games
Viewing games 1 to 8