MILFtopia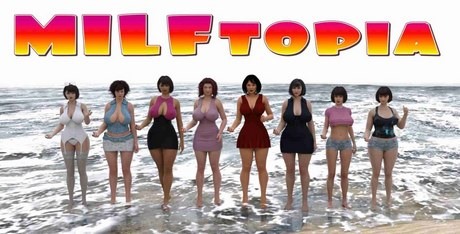 Click the "Install Game" button to initiate the free file download and get compact download launcher. Locate the executable file in your local folder and begin the launcher to install your desired game.
I came back to MILFtopia for the first time in a very long time and I was pleased to see that the game has been significantly updated since the last time I played it. The first time I played this, my main issue was that there was a real lack of content. What was here was good, but there just was not enough stuff. Well, I started a brand new game and I am very happy to say that this is one very solid lewd visual novel and that I hope the next update does not take quite so long!
Oh, Danny Boy!
One thing I will say about MILFtopia is that this is not the game for you if you want some kind of deep and meaningful story. The basics of what is going down here are that we play as a young man called Danny McCroy and his only motivation in life is to get laid by as many hot milfs as he possibly can. I think that as a premise this is fine and it was certainly more than enough to keep me interested. However, if I am being honest, I can see why for some people it may be lacking.
It Is About The Connections With Other People
While MILFtopia may be lacking in terms of an epic story tying everything together. What the game does have is a great selection of ladies for Danny to interact with. Think of this as a game where each lady has her own story and that is pretty much what you are working towards. I think that some characters are better than others, but I liked going from one milf to the next to see what the next scene would have to offer.
Checking My Watch!
The best thing that this game has going for it is the visuals. MILFtopia is a great looking game. I remember the first time I played it which must have been over a year ago and I was blown away by just how XXX this game was in the opening few scenes. It even has an enema and a butt to mouth scene as well! The quality of the character renders is great as I am a huge fan of thicker, fuller milfs and that is the style this game has gone for. I will say that the MC we play as is just way too short. Hey, more power to this guy and his short king energy, but I wish he was more normal sized.
Getting Straight To It
I know that some people have complained about MILFtopia not having any real gameplay and to be fair, I can see where they are coming from. Ultimately, what we have here is a point and click adventure game without any real puzzles to solve or any meaningful choices to make. You do point and click, but it is really just to move things from one scene to the next. To be fair, it works really well if you want a game that is just all about getting from one XXX scene to the next.
7.5
While reviews for this game are mixed, I am glad that MILFtopia got an update and I think that the game is way better than I remembered it being. If you love hot milfs, you will have a lot of fun with this game. It is very easy to play through as there is not much to it in terms of gameplay, but the amazing visuals and the steady supply of very explicit XXX content make you want to keep on playing. I for sure will be back when the next update drops.
Pros:
The milfs in this game are awesome e
It has some very hot XXX scenes
It wastes no time in getting to the hot stuff
This is a game that does not take much effort to play through
Cons:
Why is the MC so short, it is kind of weird
There is still not much in the way of gameplay
Download MILFtopia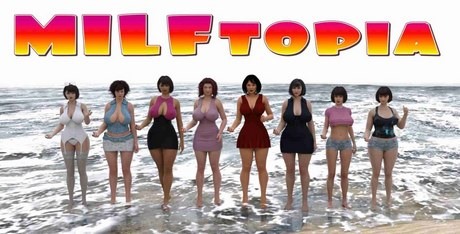 System requirements:
PC compatible
Operating systems: Windows 10/Windows 8/Windows 7/2000/Vista/WinXP
Game Reviews
From what I understand MILFtopia is based on characters from some of this developer's other work. Also, the version of the game I played did not have a ton of content, but the content that is here was something that I did find a great deal of fun so I thought I would let you guys know my thoughts on the game. I will start though by saying if you love big boobed milfs, this is probably a game you will really like!
So Many Milfs So Little Time
Ok, so there were two things that intrigued me about MILFtopia. First was the name, I love a good milf and this game on the title screen had a selection of very fine-looking ladies. The second thing that made me want to see exactly what this game was, was the description of it by the developer. The only thing that they tell you about this game is that it is "the adventures of Danny McCroy" that is it! No other information is given, but it made me want to know what it was all about. Well, the reason not much information is given is that there is very little in the way of story in this game! We play as a short dude who is just trying to bang as many milfs as he can, it has a very "juvenile" kind of vibe about it in terms of the story.
My Kind Of Ladies
As I said, I have a thing for the older, more mature lady and that was ultimately why MILFtopia appealed to me as much as it did. I think the renders are pretty decent. You have a nice selection of milfs in the game and from what I experienced; you get to bang them all. The sex in the game is decent and I think that the sound effects add quite a lot to it. In all, I like the look of this game. The only thing I am not a huge fan of is how short the MC is! Why in so many games where we have a younger MC trying to hook up with milfs do they make him like a foot shorter than all the ladies? I do not hate it, but it just feels like of weird.
Clicking Their Clothes Off
Now, the issue from what I have seen that people tend to have with MILFtopia is that there is pretty much no gameplay. There are no complicated choices, actual things to do, grinding, or anything like that. It is like a point and click adventure game without any actual gameplay. You just click on the right part of the screen at the right time and the next scene will play. I was actually pretty surprised at how linear it was. Now, that is not always a problem if you have a good story, but that is not the case here as the story is easily the weakest part of the game.
5.5
If you want a game with hot milfs, MILFtopia is worth checking out. This is a game that I enjoyed just for the renders and the XXX content. The actual gameplay and the story are severely lacking and not something that is going to hold your attention at all. As a matter of fact, if milfs do not do anything for you, I would go as far as to say that this is a game that you simply will not like.
Pros:
It has some very hot milfs
The XXX content is pretty good
Did I mention that it has great looking milfs?
The sound in the game is better than I thought it would be
Cons:
There is pretty much zero gameplay on offer in this game
The story feels like it was written by a 13 year old
See Also
Viewing games 1 to 8