Sensual Haunting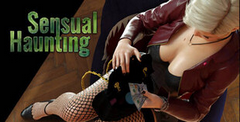 Click the "Install Game" button to initiate the free file download and get compact download launcher. Locate the executable file in your local folder and begin the launcher to install your desired game.
One of the more interesting lewd games I have seen recently is Sensual Haunting. This is a bit of a hybrid video game as it may on the surface look like another lewd sandbox game, but there are also visual novel elements and even a bit of puzzle solving here as well. With a style of gameplay that lets you approach things how you want as well as multiple endings, there is a great deal here to keep you invested and haunting the characters in the game for quite some time.
A Ghostly Awakening
The plot of Sensual Haunting is quite interesting. We play as a guy called, Sammy. Around 20 years ago Sammy died in some rather mysterious circumstances. He haunted the house he died in until he was sort of banished away. Fast forward a little while and a new family consisting of dad, Hans, mom Marin, and daughter Elizabeth have moved in. For years, Sammy has been stripped of his powers, but thanks to this new family he may be able to get his spirit power back.
Sexual Spiritual Powers
Of course, as Sensual Haunting is a lewd game, you have a very XXX way of making this happen. You see, Marin one night has a bit of solo fun and this awakens something in Sammy. He realizes that if he can get this new family to act out their deepest sexual desires, it can give him strength! It is a bit of a silly premise, but in the world of this game, it somehow works pretty well. The idea is for Sammy to interact with the family without them getting scared or really knowing what is going on.
Full House!
The way the actual gameplay works in Sensual Haunting is that you are able to click around the various rooms of the house. You can see where each family member is and you can interact with them and the environment to try and get them a bit frisky if you know what I am saying. Doing this is a bit of a balancing act as you do not want them to be scared or angry with you. However, you could go the vengeful spirit route if you wanted. You can interact with certain objects as well to really send shivers down their spine! It has a lot of promise in the gameplay department that is for sure.
We Are Family
The presentation of the game is something that I think is going to bring many people to it. Sensual Haunting is a fantastic looking game that has some excellent character renders. As the cast of characters in this game is relatively small, the developer made sure that each one looked great. The actual house is well designed too and the whole UI of the game is nice and clean and very easy to figure out. The sex scenes in the game are animated and there from what I have seen so far, is a very nice variety to the types of sex scenes you can expect in the game.
8
As I write this review/preview for Sensual Haunting, the game is still being worked on. However, I cannot remember the last time I was this excited about a lewd game! there is something very, very cool and interesting about this game and I think it could be one of the better lewd games released in the last few years. I also think that it is pretty cool how this game is getting an official release on Steam!
Pros:
I got a kick out of playing as a ghost
I like the supernatural/haunting aspect of the story
The character renders are very well-done
There are different endings and different ways to progress through the game
Cons:
If you are not into ghost stories, this may not be as cool
I am interested to see if all of the choices you make actually matter
Download Sensual Haunting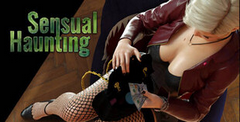 Minimal System Requirements:
OS: Windows 8
CPU: 2.0 Ghz+
RAM: 4 GB
VRAM: 256 MB
HDD: 2 GB free
System Requirements:
OS: Windows 10
CPU: 2.0 Ghz+
RAM: 6 GB
VRAM: 512 MB
HDD: 2 GB free
See Also
Viewing games 1 to 8