Scarlet Maiden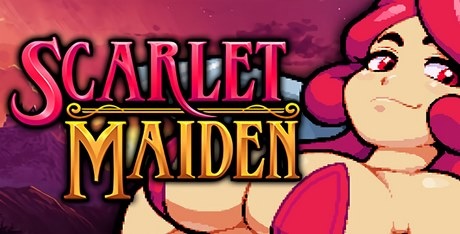 Download Scarlet Maiden and have some lewd and sexy roguelite 2D action! Epic mature gameplay for those that love their action games to be full of sex, violence, and awesome characters too!
a game by
Otterside Games
Platform:
PC
Editor Rating:

8.8

/

10

, based on

3

reviews
User Rating:

7.8

/

10

-

11

votes
Rate this game:
See also:
Eroge Games, Anime Games, Action Games, Action Adventure Games, Nudity Category, Pixel Art Games, Hentai Games, Hack and Slash Games, Pixel Porn Games, Games Like 18Titans, Best Roguelike Games
The more I think about it the more I feel that so far, Scarlet Maiden is my favorite lewd game of 2023! This is a lewd action platformer roguelite that I simply could not stop playing. Yes, this is still technically a game that is in early access, but this is just incredible stuff and some of the most fun I have had playing a lewd game in quite some time. Even as we are starting this thing, I am telling you right now that this is a game you have to play!
Putting The Prime Evil Back In Its Place!
I think that they have created a fun and interesting world here in Scarlet Maiden with a main character that is just impossible not to love! Scarlet is the last of her kind, she is known as the Maiden of the Sacred Flame and she was once one of many warriors that were there to stop The Prime Evil. Well, the Prime Evil is back and spreading its vile and corrupt ways all over the kingdom and only Scarlet has the skills to stop it!
She Can Spank Me Anytime!
I know that many of us feel that lewd pixel art has been done to death, but games like Scarlet Maiden show that you can still wow people with some great lewd pixel art. Scarlet herself is very cute and the way her boobs bounce when she moves is so much fun. All of the characters are done in a cute and naughty way that is sure to put a smile on your face. There is a nice variety to the enemies and dungeon designs too so things never feel too samey. Also, this game has a nun that is there to spank and help Scarlet and I think she may be my new lewd game crush!
Getting Better Each Time
If you have played a 2D action platformer roguelite style of game before, you will have a good idea of what to expect with Scarlet Maiden. Scarlet controls great and each round is randomized so the dungeon, the enemies, the loot and so on will always be different. The game is very challenging and you will die a great deal, but like in most roguelite games, the idea is that you get a little stronger and better each time and you progress that little bit further. It is honestly one of the most addictive lewd games of this style that I have ever played!
Making Her A True Dream Babe!
I love the sense of progression that you get in Scarlet Maiden. It is done in a really fun way too as you need to take the "sin" out of enemies and then you have to repent by getting spanked by that big tiddy nun which is hilarious. There is a skill tree too and the game like most roguelite games is all about tinkering with your build to try and get Scarlet just the way you want her to be. I found the whole thing very addictive and if I do have just one criticism it is that I wish there were different outfits for us to put Scarlet in too as that would have been a lot of fun.
9.5
The hype is very much real with Scarlet Maiden. I pretty much have zero complaints with this and if they were to say that this is the complete game, I would honestly be cool with that as I had so much fun! If you love action platformers and roguelite games, there are not many that I can think are as much fun as this one here. It does have some awesome lewd content, but this is a game that is so good, it would actually stand on its own without any of the lewdness!
Pros:
I am just loving that spanking nun!
Scarlet is a fun character and the whole story and premise of the game is fun
The lewd pixel art in this game is great and it even has some awesome portraits too
This could be the most fun and addictive lewd roguelite I have ever played!
Cons:
As of writing the game is still in early access
I wish they would give us different costumes for Scarlet to wear
Download Scarlet Maiden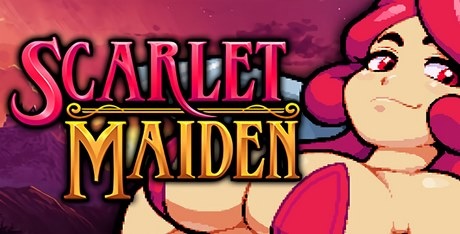 System requirements:
PC compatible
Operating systems: Windows 10/Windows 8/Windows 7/2000/Vista/WinXP
Game Reviews
Scarlet Maiden is a game that I knew was for me as soon as I saw that pixelated spanking in the opening seconds of the trailer. I have had a great deal of fun with this and pretty much did everything there was to do in the game over the weekend. It is in early access, but I would say that if you are like me and want to see and do everything that is in this first build of the game, you are easily looking at 8 or more hours of gameplay in front of you.
The Last Of Her Kind
The story of Scarlet Maiden is something I had a lot of fun with. Scarlet is the main character and she is the last of the Maidens of the Sacred Flame! A group of powerful warriors that are here to fight off what is known as The Prime Evil! The Prime Evil has come back and now only Scarlet can stand in the way of this evil from spreading all over the land. I got a real kick out of the story here and I am excited to see how they flesh it out in future updates.
A Real Thirst For Adventure!
Scarlet Maiden is a 2D rogue-like style of game. Each time you play the game, you will get a different dungeon layout, set of enemies, items, and so on. You will need to explore and fight enemies to progress through the game. It is the kind of game where you will die a great deal, but each time you jump back into the game, you will be stronger than you were before. The combat, exploration, and the platforming all feel great and Scarlet controls great. You have a skill tree as well as different types of equipment you can use. Putting together your perfect build is a huge part of the fun in this game. As I write this, the current build of the game that I played had three bosses for you to get to, but more are coming!
Living In Sin!
That is actually the title of a kick ass Bon Jovi song I am sure! Anyway, part of the gimmick of Scarlet Maiden is that Scarlet can take away the Sin from the enemies by having sex with them and getting up to all kinds of lewd shenanigans! However, she does have to repent for this, luckily she has a big boobed nun that is available to give her a good spanking to make sure that she is not corrupt. I found the whole Sin thing this game has going on to be a lot of fun and quite a unique game mechanic.
Pixel Naughtiness!
As I said in the intro it was Scarlet getting a spanking off the nun in the trailer that made me want to try this game out! This has a fantastic pixel art style that I am a massive fan of. It does not just look great in still images, Scarlet Maiden has some awesome animation and there are plenty of fun lewd activities that Scarlet can get up to with the monsters and characters she encounters. I do feel that there could be more lewd content, but I am certain that is coming in the next update. What is here right now is great and it certainly put a big smile on my face.
Final Score: 9/10 (based on the early access version of the game)
9
I cannot remember the last time I played a game in early access that I had as much fun with and was sold on as quickly as I have with Scarlet Maiden. This game is just shaping up to be something really special. To be honest with you I do not even need them to add any more gameplay mechanics, items, abilities, or whatever to the game, I just want more of what is already here and I cannot wait for the next update!
Pros:
Scarlet is such a fun character
I am also crushing really hard on the big boobed nun!
The gameplay is a lot of fun and pretty damn challenging too
I love the whole style of the game and the progression system keeps you coming back
Cons:
No word on when the next update will be
A few more lewd scenes would be nice
Strange as it seems, a really big audience in the online gaming world is the fans of adult games. These titles are very varied, they range from every possible genre in the gaming world. However, one of the most common ones to see are the visual novel types of games, since they are a simple way to tell a story and they allow for a lot of scenes with little interaction. It's not every day that you see a hentai game based on roguelike mechanics, mostly because they require a lot of actual input from the players into action. But that's why having games like Scarlet Maiden is important, it helps expand the hentai gameplay world to new levels. So what is Scarlet Maiden all about? Well, let's talk about it!
About the game
It all began a thousand years ago when the Maidens of the Sacred Flame fought and managed to defeat the Prime Evil. But now, a thousand years later, it came back from the depths beneath Sinner's Rest Abbey. This is the calling of action for Scarlet, the last remaining of the Ladies of the Sacred Flame, to join the action and go on a sinful path on her quest to defeat the Prime Evil, hopefully once and for all this time.
Using your special abilities, you'll explore the procedurally generated dungeons that compose the underworld. Finding new weapons, spells, and special items that will help you on your journey, and going through many hot encounters. These lewd moments will also help you defeat enemies and improve your character. Sometimes they are the key to proceeding in your adventure, so be sure to enjoy them whenever you can.
As you defeat the enemies you'll earn more Sin, you'll be able to convert it to powers through repentance, which Mistress Julia will swiftly deliver with some nice slaps. Engaging in sinful acts in the underworld is a great way to gather experience to earn new abilities and upgrade Scarlet to be much stronger. Some companions can help you on your journey too, so the more the better, in many ways.
Real action
Even though the center of attention in Scarlett Maiden is the hentai and lewd part, it doesn't mean that the gameplay isn't well developed. It's very solid, and the pixel art visuals are sexy and lovely at the same time. They are similar to those in the Scott Pilgrim vs. The World: The Game, even though the game isn't similar at all.
Yes, the game is very hot, but it is also pretty good at the action part, and the roguelite mechanics are nicely implemented.
Review: 8/10
Scarlet Maiden is a pretty good game, filled with action and nice combat mechanics. Even if you're not that much into hentai and lewd games, the entire gameplay experience of Scarlet Maiden by itself makes the game worth playing.
8
It would be nice to see the developers make a game like this but without the hentai part, so it would appeal to an even bigger audience, they have real talent!
Pros:
Great game mechanics
Good visuals
Intense action
Cons:
Not for everyone
Strange upgrade system
See Also
Viewing games 1 to 8