Shiro no Yakata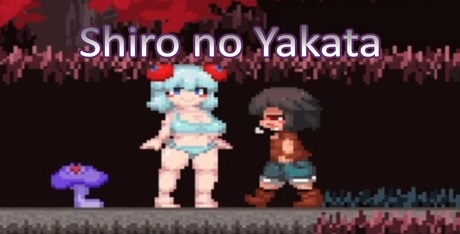 Download Shiro no Yakata and experience some cute and very sexy 2D platforming action. This is a lewd platform game that manages to be not just very sexy and very hot, but it is also something that will make you smile, smile as you watch the next pixel perfect sex scene!
Shiro no Yakata is a 2D authentic platformer in pixel graphics where a young man tries to escape from a dusty house filled with monster girls. The old-school 2D adult horror with hot animations will delight players with beautifully stylized locations.
Story
The game has almost no plot - we only know that a young boy needs to find his way out of thousands of dark corridors. The character has a difficult path through dangerous places:
Eerie darkness everywhere
The sticky cobwebs
Singing
Where the roads lead
Shivers will run through the player's skin with terror, but he will go through fire and water:
Dungeons with hot lava rivers
Open glades with green grass and pleasantly colorful plants
Translucent portals that lead to parallel worlds
Cellars with thousands of statues
Multilevel red brick rooms
Blue staff with azure stone for adventure
Excited rivals
Dangerous creatures will pounce on the character:
A gray-skinned witch with a funny hat and long boots from the wild west launches Hearts. She bewitches and falls in love with
Female clones in blue dresses and braided pigtails aggressively lash out at you with their bare hands
Pink intelligent clouds stalking the hero
Half-naked lush woman with bunny ears
Pregnant babe in a leather tight suit
The witch's goal is to drag the young savior into her net to suck out all the inner energy. The player's goal is to be as healthy as possible and not to be seduced by the babes' pleasing appearance.
Panacea
You can transform yourself from a victim to the strongest hero. Grab any cuties you like and drag the beauties to a safe place to comfort the nature inside.
The player will be able to learn different skills as experience comes in. For example, double jump, enhanced attack or self-satisfaction (plus health).
8
Shiro no Yakata is an erotic old platformer with beautiful female characters without violence or blood, only mild sex scenes if the player so desires. Recommended for fans of The Adventures of Kincaid.
Download Shiro no Yakata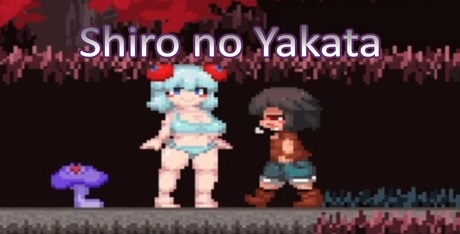 System requirements:
PC compatible
Operating systems: Windows 10/Windows 8/Windows 7/2000/Vista/WinXP
Game Reviews
Only a brave and daring adventurer will set out to explore the cursed mansion and experience all the horrors and passions hidden in the darkest corners of the erotic platformer - Shiro no Yakata. Take a journey through the forgotten corridors, where hungry ghosts await at every turn.
Erotic Horror
The game has no coherent storyline. The emphasis is more on the large number of erotic animations, which are a kind of battle system in this game. The protagonist explores rooms, finds clues on how to get out and tries not to get caught in the clutches of lustful monsters. The creatures of the night seem to be attracted to seminal fluid, so the player can let the hero engage in self-satisfaction and douse the monster with what he is so attracted to. The game even introduces a special scale for this purpose. Such a system may be familiar to players of Forest Of The Blue Skin.
Story, but is it horror?
Combat tactics, other than emptying the special scale, vary from chapter to chapter. Only two chapters are available in the game so far :
TV Girl - the location is one tiny room and only a mirror of weapons. Hide in closets and confuse the ghost with a mirror doppelganger to escape.
Rainy Mansion - The hero arrives at a strange mansion hiding from the rain. A strange pink monster rapes a man just like the hero until he can't go on. The monster is glad that you and the hero delivered her a new snack in time. Armed with a blunt sword, try not to let the monster use the hero's body as a toy.
Sex takes more than just strength
Monsters attack in a special way, they just start mating with the protagonist. Though for some such an attack is a gift from heaven, for the main character such lovemaking can be fatal. Health points are deducted for each intercourse with the monster, which can lead to loss.
8
Pixel animations of intercourse are the main point of the game. After going through the chapters, you can see the animations with each monster separately. Such high quality and elaborate animations are hard to ignore and try not to play them, so it can take a long time to get through. Try to come out dry and alive from the mansion in the erotic RPG platformer - Shiro no Yakata.
See Also
Viewing games 1 to 8